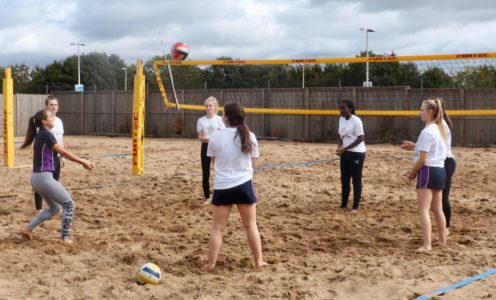 Around 400 sporty school pupils from across the south of England enjoyed an inspirational visit to the University of Bath Sports Training Village as they took part in the annual GSA Girls Go Gold Conference.
The Girls' Schools Association event, delivered by the Youth Sport Trust and Team Bath coaches and staff, saw the secondary-aged pupils enjoy practical high-performance coaching in netball and hockey, as well as recreational sport sessions in laser-run, beach volleyball, softball, trampolining and yoga.
They also gained an insight into sports psychology, nutrition, video analysis and sport science from the University's expert staff, with the hands-on sessions designed to support the young women with their PE studies and encourage future learning within those fields.
The day began with a motivational speech from former Team Bath and England Netball captain Pamela Cookey, who said: "It's really great to see so many girls here and the rise of women's sport as a whole, how big it has boomed with the netball, football, rugby and cricket success of recent years. I've always believed that if you can see it you believe it and these girls now have so many role models they can look up to.
"Sport is so important to young women as they grow up, how it helps their bodies and their minds. Having your team-mates around you, teaching you resilience in difficult times and giving you that drive and dedication – I learned all of those things through sport and that has definitely made me the woman I am today."
Youth Sport Trust Chief Executive Alison Oliver, a former Deputy Director of Sport at the University of Bath, added: "This event is all about giving 400 young women the opportunity to experience the amazing environment here at Team Bath and be inspired by being on a university campus, while at the same time indulging in a whole range of sports and experiences behind sport which will give them new ideas about their careers.
"Hopefully they will go away having learned a little more about the importance of sport to their life as a whole and how it contributes to their education, their careers and living a healthy and balanced lifestyle."