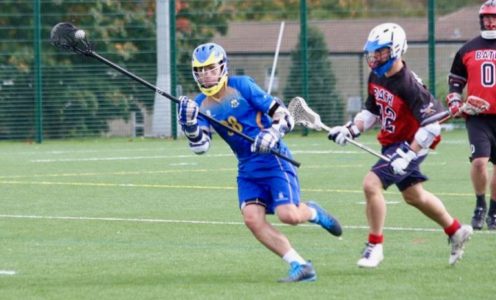 International lacrosse player Joshua Yeoman has been voted by his fellow student-athletes as the University of Bath's Sports Personality of the Year in the 2020 Blues Awards.
The Aerospace Engineering student had not played the sport before arriving at Bath in 2015, having previously played rugby as a junior, but he quickly progressed through the men's teams and also represented Bath City Lacrosse Club before earning selection into the Wales senior team, with whom he competed at the 2018 World Championships in Israel.
This year has seen Yeoman take on the role of chairman of the University of Bath Lacrosse Club, who have enjoyed their best-ever season in terms of membership and performances in BUCS [British Universities & Colleges Sport] competition.
— The SU Bath Sport (@TheSUBathSport) May 1, 2020
This year's Blues Awards, the annual celebration of student sport at the University of Bath organised by The SU Bath Sport, took place online with the winners being announced over the course of the week.
The men's judo squad, coached by Adam Hall and Tom Reed, were named as Team of the Year following their success at the 2020 BUCS Nationals in February, while the mountaineering club – whose 205 members compete in climbing and orienteering – took the Club of the Year honours.
Two long-serving Team Bath staff who have retired this year were also among the prize winners – physio Barry Edwards received the Martyn Hedges Awards for his outstanding contribution across a range of sports since 1999, while judo coach Juergen Klinger received the Ivor Powell Award for Excellence in Coaching.
The Tugendhat Trophy went to BUCS snooker champion Justine Hammond of the University of Bath Cue Sports Club; fencer Ben Priestley was Volunteer Coach of the Year; cheerleader Adele O'Callaghan was named as Gethin John Bevan Club Member of the Year and also received an Honorary Blue; and there were two recipients of the David Vanderlinde Prize recognising sporting and academic success – basketballer Yoyo Wong and professional windsurfer Sarah Jackson.
Jackson also received a Full Blue, awarded to students who have competed for a University 1st team for two years along with two years' representation at international level, as did Team Bath Netball Superleague players Imogen Allison and Tash Pavelin; hockey internationals Tim Nurse and Alexander Batstone; trampolining World medallist Kirsty Way; tennis player Ben Jones; swimmers Jacob Greenow and William Ryley; pentathlete Bradley Sutton; and lacrosse international Madison Jones.
Among the Honorary Blues recipients were Ron Stewart, Sports Facility Manager at the University's Sports Training Village who is retiring later this year after 21 years with Team Bath, and Vice-President (Implementation) Steve Egan, who has been a passionate advocate for sport during his five years at the University. Others went to SU Community Officer Alisha Lobo; Freddie Sherratt, who has been a key figure with the University's swimming club for the past eight years; and outgoing Warden of the Blues Chris Jennison.
Other award recipients were as follows: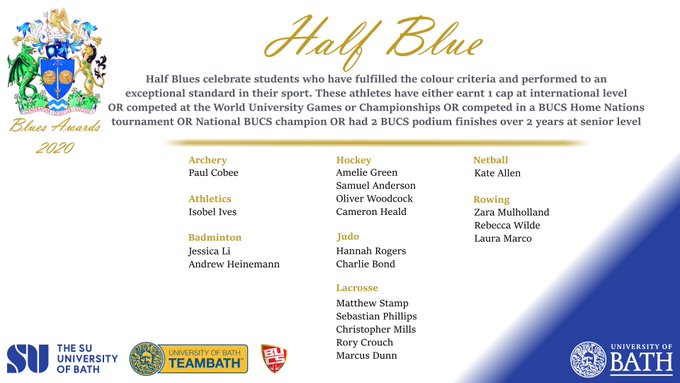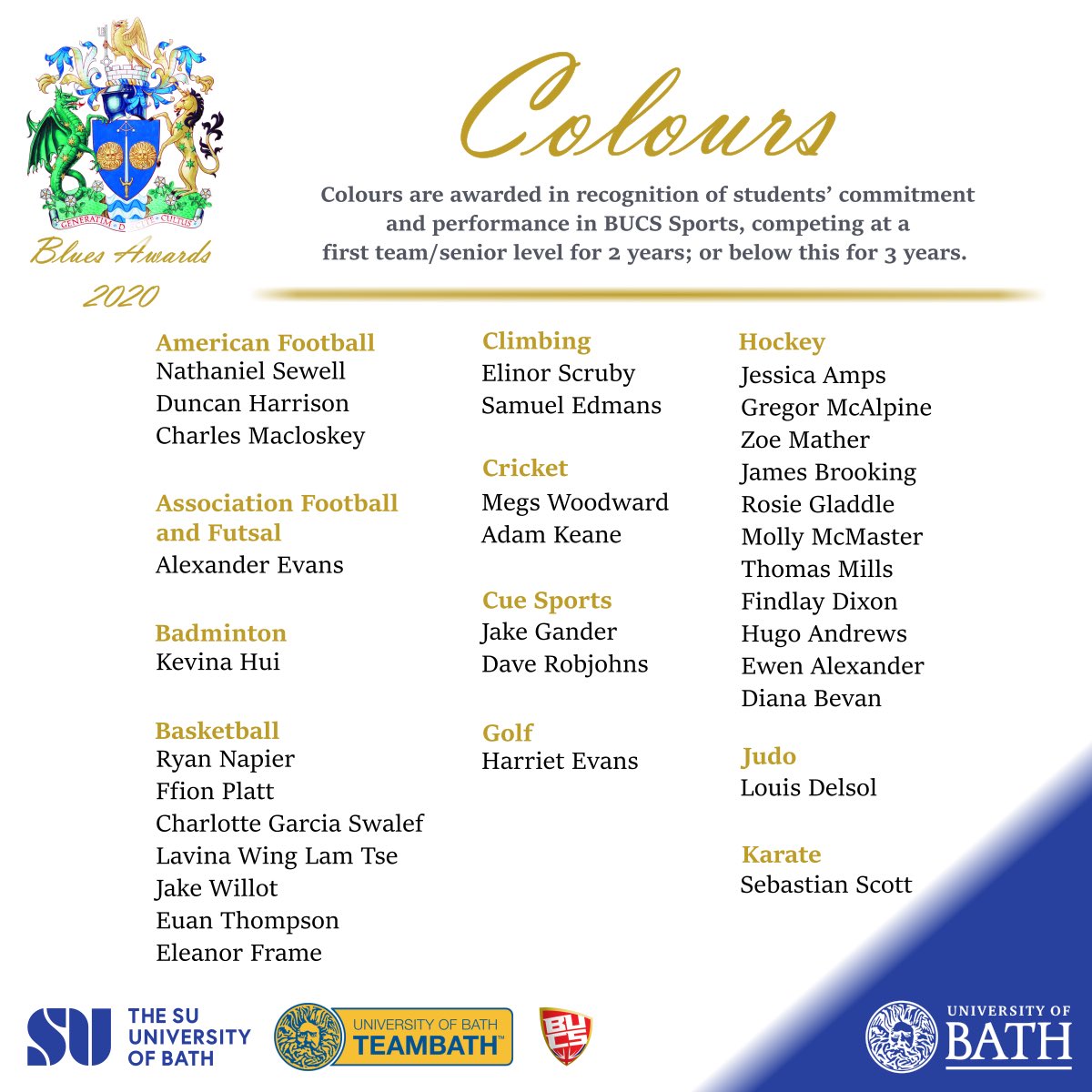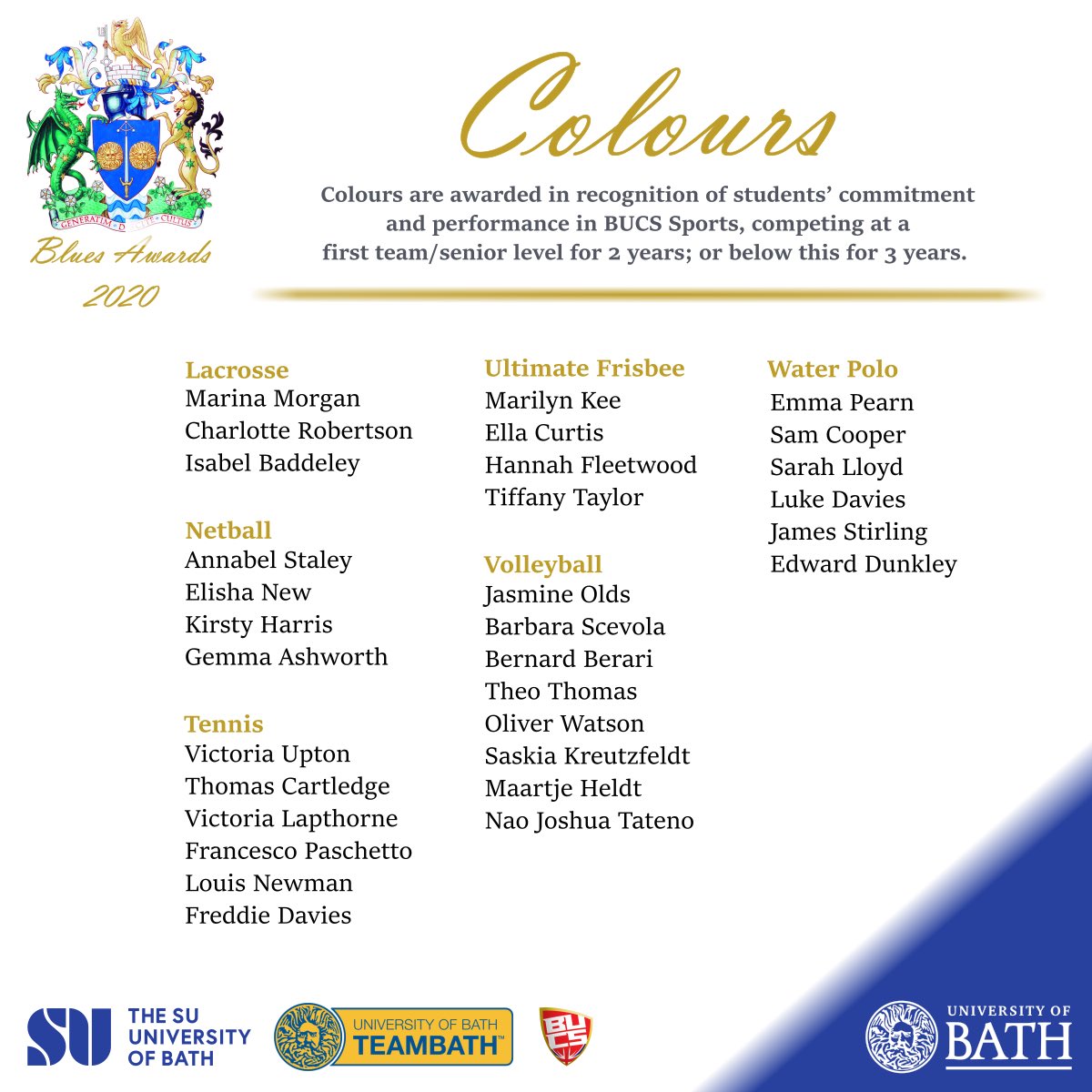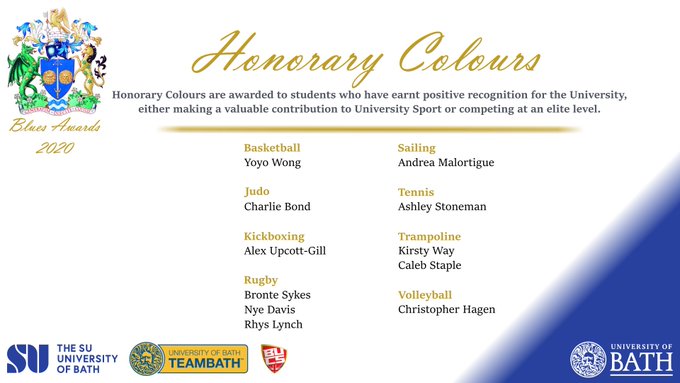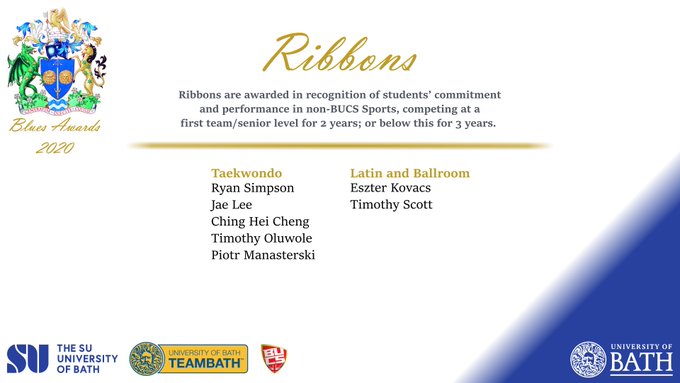 There are 48 sports clubs for students to join at the University of Bath, ranging from American Football to Water Polo, and all are run by a democratically-elected student committee. Click here to find out more.