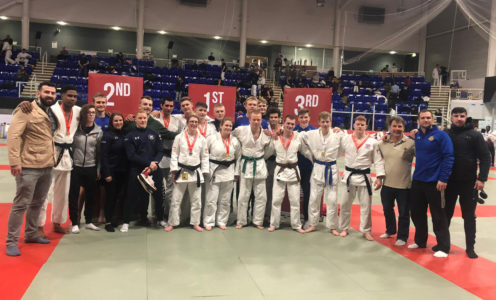 There were 26 medals won across five different sports, nine of them gold, as 135 University of Bath student-athletes proudly wore the Blue & Gold during three excellent days of competition at the 2020 BUCS [British Universities & Colleges Sport] Nationals in Sheffield.
Swimmer Luke Turley and judoka George Kroussaniotakis and Lewis Widdicombe all claimed two titles apiece, and karate's Sophie Atkinson, a silver medallist in last year's women's novice kata, went one better this time round.
Track athlete Remi Adebiyi also claimed a maiden BUCS Nationals gold in the men's 1,500m by dramatically throwing himself over the line to see off Cardiff's James Heneghan.
100% Input = 100% Output@TeamBath's Remi Adebiyi throws himself towards his first 1500m #BUCSNationals Gold pic.twitter.com/wHJt86RuLl

— BUCS (@BUCSsport) February 16, 2020
Tom Sawko, Sports Officer for The SU Bath, said: "BUCS Nationals proved to be an incredible event for Bath yet again – from Remi's gold-winning tumble in the 1,500m to the nail-biting men's team final in the judo, it was a weekend that I've no doubt will be remembered fondly by all that attended.
"It was particularly great to see the culmination of hard work by coaches and athletes over all seven sports and the camaraderie shown by all those wearing the Blue & Gold. Well done to everyone who climbed, fenced, swam, ran, fought, threw and jumped, and a special thanks to all those who worked behind the scenes."
It was a successful weekend in the dojo for the University's judo squad, coached by Adam Hall and Tom Reed, who bagged gold in the 1st kyu and above category through Imogen Ranner (-78kg), Widdicombe (-90kg) and Kroussaniotakis (-100kg).
The two latter judoka also won the men's team title with James Reseigh, Harry Stone and Jared Sey, while there was 2nd kyu and below gold for Alex Myers (-66kg).
Reseigh (-66kg silver) and Sey (-90kg bronze) also claimed individual medals, as did Charlie Bond (-57kg silver), Nathan Bridges (-60kg bronze), Cameron Charles (-73kg bronze, 1st kyu) and Kieran Pargeter (-73kg bronze, 2nd kyu).
The Blue & Gold also excelled in the swimming pool, picking up nine medals in total with Will Ryley and Jacob Greenow collecting five between them. The squad, coached by Mark Skimming and Andrei Vorontsov, earned 182 meet points in total to finish fourth overall.
Sports Performance student Turley, supported by the Team Bath Dual Career programme, took the men's 1,500m freestyle title on day one with a time of 15:38.70 and Goldsmith Sporting Scholar Ryley completed a Bath one-two by finishing runner-up.
Saturday saw Turley produce a sensational season's best performance in the 200m freestyle to claim his second gold in 1:50.45, a tremendous surge in the final length overhauling Loughborough's Joe Litchfield, and he was only denied a third title in the 800m freestyle by Sports Performance alumni Jay Lelliott.
Natural Sciences student Greenow, supported by a Santander Scholarship, claimed silver in the men's open 400m IM in an enthralling race before bagging a brace of bronzes on day three in the 200m butterfly and 200m IM, with Bath team-mate Miles Drabwell finishing fifth in the latter final.
Chemistry student Ryley added to his 1,500m silver on day one with a personal best in the 200m backstroke and a bronze in the 400m Freestyle, where Lelliott gained another gold.
Jasmine Iley, who studies Sport & Exercise Science, also achieved a PB when she won bronze in the 200m backstroke, her time of 2:15.63 being just 0.13 off silver.
She was also part of the women's 4x100m freestyle team – alongside Meghan Byrne, Jana Spinner and Rachel Cox – that just missed out of a podium finish, as did the men's quartet of Ryley, Turley, Drabwell and Bruno Kempster.
Paralympic Champion Stephanie Millward, who trains at the University with Team Bath AS, was among the guest swimmers competing in Sheffield and won the women's 400m freestyle MC title in 5:01.64.
There were a host of excellent performances from Bath track and field athletes, most notably from first-year Mathematics student Adebiyi who made certain of the men's 1,500m title by diving over the finishing line.
Matthew Fay, studying for a Masters in Management and coached by Colin Bovell, recorded a 4.80m jump in the pole vault to clinch silver.
There were more medals for Bath in the karate dojo as Architecture student Atkinson struck gold in the women's novice kata and there was bronze in the mixed team kata.
The Bath badminton squad, coached by Peter Bush, collected two bronze medals in doubles competitions. Josh Hong and William Jones lost 13-21 21-16 17-21 to eventual winners Alex Dunn and Adam Pringle, while Molly Chapman and Katie Scott were edged out 19-21 21-16 21-12 in their semi-final.