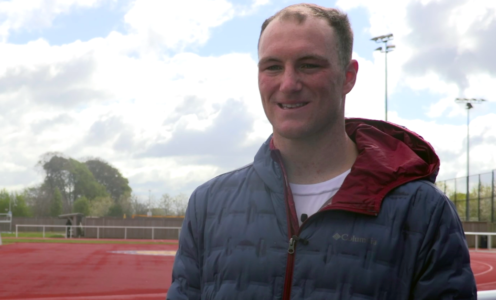 Back in 2016, when all Paralympic and Olympic eyes were on Rio, Michael Taylor was newly-disabled – he is an amputee – and wondering what came next.
Fast forward five years and now a first-year medical student, the qualified physiotherapist is aiming not to be watching the Tokyo Paralympic Games this summer but competing in them in the para-triathlon PTS4 category.
"I was looking around for a new sport after my injury and the Olympic and Paralympic Games were on in Rio on the TV," said Michael, who trains with the British Triathlon Bath National Performance Centre at the University of Bath.
"I'd previously done swimming and a bit of running, then saw that British Triathlon were organising a try-it session in triathlon so I decided to give it a go. I found that I liked it and as I was then studying in Cardiff I joined a group there.
"I did quite a few races early on. The swimming and the cycling were OK to start with but the running was a bit weird and that took a bit of time to get used to and to get the right equipment like 'a running leg'.
"But once I got the right equipment it was so nice to be able to get back to running again and to be able to do sport with my friends."
Talking between a gut-busting 12 x 400m running session – Michael uses a prothesis on his left leg with a special, running blade – and a swim training session at the Team Bath Sports Training Village, where he has trained for Tokyo two or three times a week since September, Michael says that he's looking forward to a World Cup in Yokohama, Japan, this weekend and then a home-based World Cup Series in Leeds as he continues his quest to qualify for the Games.
"Hopefully, if I do well in both of those races, I should be able to move up the rankings and hopefully guarantee myself a place in Tokyo in August," he says, whilst admitting that he tries not to dream that far ahead preferring instead to focus race by race.
Michael's training is supported on site at Team Bath by Rhys Davey, the head coach for the British Triathlon performance centre based in Bath. Davey also coaches Vicky Holland, the Rio 2016 medallist who has already been selected for the Olympic Games in Japan.
On a blustery day and after that energy-sapping track session, Michael – in a swift, engaging and detailed description – says that all is working well, fitting his medical studies around training in Bath and also doing cycle sessions in the countryside surrounding Bristol.
"I always wanted to go back to do medicine as it didn't happen first time round," he said. "So when I got in at Bristol last September it meant that Bath, just 45 minutes away, was a great choice for training because of the world-class facilities with the track and swimming pool all in one place. It's ideal and such a nice area, a lovely place to be.
"British Triathlon have a performance centre here run by Rhys and I knew it would be a great place to come and improve. Since lockdown and all that, I've been training a lot and I feel like I've come on a long way."
Previously, Michael's early training had been disrupted by Covid which saw him return to his family home in Barnstaple where he felt lucky to be able to get out and run and cycle as well as do some sea-swimming.
Sunday (16th May) marks 100 days to go to the Tokyo Paralympic Games and Michael is competing in Yokohama on Saturday.