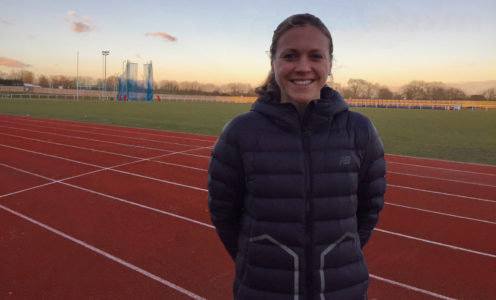 There are exactly 100 days to go until the rescheduled Tokyo Olympic Games finally begin and triathlete Vicky Holland believes she is on the right track after a very different but productive winter of training in Bath.
The Rio 2016 bronze-medallist, who has already been named in the Team GB squad for this summer's Games, would normally spend some of the cold, dark months on warm-weather camps overseas and competing abroad but the global pandemic has forced her and coach Rhys Davey to adjust their plans.
Instead they have been working solidly at the Team Bath Sports Training Village – home to British Triathlon's regional National Performance Centre – for the past ten months, making the most of the multi-sport facilities and working alongside other aspiring Olympians to hone their preparations.
"To be here in the position I am with 100 days to go, I think I've done really well," said Holland, who was ITU World Champion in 2018. "I actually think it has gone about as well as it could have done so far. I know I have done my biggest-ever and most consistent winter training block, all of it, every single second, in the UK.
"It has been a little challenging, the weather has made it really trying at times and the lack of daylight is a factor for an athlete who spends a huge amount of time outdoors. I've had to do a fair bit of my cycling indoors, which is never as fun as being outside, but we've adapted to make it work and I'm really pleased with what I've been able to do.
"We've been really lucky that we've had access to the Sports Training Village here in Bath for virtually the entire time the pandemic has been going on. I came back at the end of June and have had access all the way through since then [through the Government's elite-sport Return to Training protocol].
"I've been able to use the swimming pool and the gym the entire time and we've just started using the outdoor athletics track again as I make my training more race-specific. Having that access has been invaluable.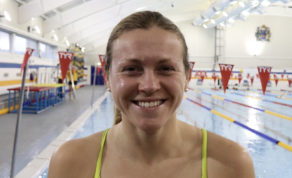 "The people who have been able to train at the STV have all been focussed on pretty much the same goal as me – we're all trying to get to the Olympic Games. I've had chance to swim alongside some of the top GB swimmers, when we've had different pool allocation times in previous years, and it's been really inspirational to see them go about their business. It also keeps things fresh, seeing how they do things differently.
"Everyone has been so focussed on the Olympic Games and even though we've been thrown some crazy circumstances we are all doing our very best to get on with it and hopefully be in the right shape to take on the world in July."
Before then, Holland is hoping to put her hard work in training into practice during World Triathlon Championship Series events in Yokohama, Japan, in May and Leeds in June. She has only been able to compete once during the past 13 months, in Germany in September, and is grateful to know her Tokyo place is secured.
"Being pre-selected for the Olympic Games this year has been massive, especially under the stressful circumstances we have found ourselves in," said Holland, who will be competing at her third Games after London 2012 and Rio 2016.
"Trying to restart racing in mid-May and not knowing whether you have a slot in the team, or even which competitions are going to happen, would have been really difficult. Knowing I have that in my pocket and all I need to do is focus on being the best I can be right at the end of July has been absolutely invaluable to me."