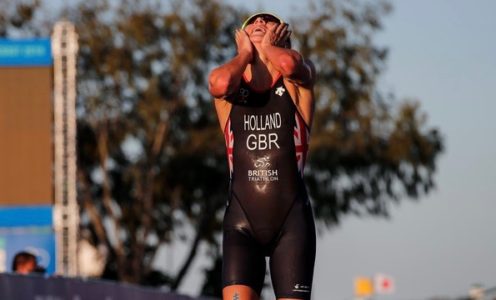 Vicky Holland will return to the UK tomorrow as triathlon's overall 2018 World Champion after a gutsy performance on Australia's Gold Coast.
The 32 year-old, who trains at the University of Bath as part of the national triathlon centre, finished well clear of USA's Katie Zaferes, her only rival for the title after a season-long battle from March to September across four continents.
Olympic bronze medallist Holland has never won the world title but her weekend's silver concluded a consistently successful season in which she won a total of three golds and two silvers individually.
"I can't actually believe it," said Holland of her ITU World Series Overall Title. "This season as a whole has been absolutely incredible. It is so much more than I thought I would get out of the year!".
Part of a strong British contingent on the Gold Coast, Holland started with the best swim of her career and was in a small group of leaders on the bike. However, two motivated groups behind them eventually caught them and by the second transition, there were 27 women in contention at the start of the 10km run.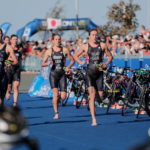 On that run Holland, who needed to beat Zaferes to win the overall crown, started strongly but was then overhauled by the American and Ashleigh Gentle of Australia who generated a five-second lead. Holland strived to stay in contention and eventually clawed back the gap after two of the four laps.
Zaferes paid for her early pace dropping back dramatically whilst Gentle beat Holland to the gold in the final sprint.   British team-mate Georgia Taylor-Brown finished eighth on the day but third in the world series overall.
Holland said: "I thought at one point on the run it was done, it was quite a big gap there but I brought it back in. I knew I couldn't go with them when they went, I decided to back it off and pace my own run."
She added: "This season for me had always been about the Commonwealth Games and that was what I was training for. Since that point things have just fallen into pace. I've just really enjoyed my racing. When you turn up to a race feeling confident and happy there's not too much that can go wrong. I really wanted it, and I'm so glad I got it at the end."
Final Series Standings:
Vicky Holland, GBR, 5540
Katie Zaferes, USA, 5488
Georgia Taylor-Brown, GBR, 4183
Kirsten Kasper, USA, 3887
Jessica Learmonth, GBR, 3810
Ashleigh Gentle, AUS, 3750
Jodie Stimpson, GBR, 3658
Grand Final Race Results; 1500m swim, 40km bike, 10km run:
Ashleigh Gentle, AUS, 1:52:00
Vicky Holland, GBR, 1:52:02
Katie Zaferes, USA, 1:52:33
Georgia Taylor-Brown, GBR, 1:53:31
Jodie Stimpson, GBR, 1:53:41
Jessica Learmonth, GBR, 1:53:56
Non Stanford, GBR, 1:53:56
Sophie Coldwell, GBR, 1:56:32
Source:  British Triathlon