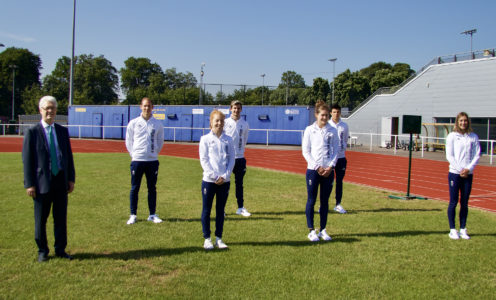 Professor Ian White, Vice-Chancellor and President of the University of Bath, has visited the Team GB modern pentathletes training on campus to wish them congratulations and good luck ahead of the Tokyo Olympic Games.
Joe Choong, Jamie Cooke, Kate French and Jo Muir – who all train with Pentathlon GB at the University – were this week officially selected for the rescheduled Games, which begin in four weeks' time.
They, along with reserves Francesca Summers and Tom Toolis, took time out of their Tokyo preparations to meet Professor White and share their excitement at being selected, as well as provide an insight into their training at the Team Bath Sports Training Village.
Professor White said: "It's lovely to meet with you all. I had the privilege of watching one or two of you at the European Championships here in 2019. It's just wonderful to see your collective and individual success, and I really hope it continues in spades in the coming weeks and months."
Cooke, who won the men's title when the University of Bath hosted the 2019 European Championships, shared the group's gratitude at being able to continue training at the STV during the pandemic through the Government's elite-sport return to training protocol.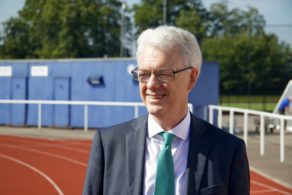 "We were really privileged to be able to train here at the University during lockdown and we've been able to put in quite a decent block which is shown by the performances, particularly from the women's squad who have smashed it this year," he said.
Joining Professor White and the Tokyo-bound athletes were University of Bath Director of Sport Stephen Baddeley, Pentathlon GB CEO Sara Heath and Pentathlon GB Performance Director Jan Bartu, a member of the University of Bath Hall of Fame for Sport.
Bartu has been with Pentathlon GB throughout the 22 years its National Training Centre has been based at the University, during which time his athletes have won five Olympic medals – gold for Steph Cook, silver for Heather Fell and Samantha Murray, and bronze for Kate Allenby and Georgina Harland – plus a host of World and European titles.
"Thank you for visiting the team," he said. "We have been based at the University of Bath since 1999 and it has been quite a journey for all of us, not just the athletes but also the coaches working closely with the sports department here. It has been a fantastic collaboration."
Pentathletes have access to a fencing salle, indoor and outdoor shooting ranges, Olympic-sized swimming pool, indoor and outdoor athletics tracks, and a high-performance gym at the Sports Training Village, as well as on-site physio and sport science support from both Team Bath and the English Institute of Sport (EIS).
Many pentathletes take the opportunity to combine their elite-level training with study at the University, with Choong (Mathematics), French, Muir (both Sports Performance) and Toolis (Sport & Exercise Science) all graduates.
Find out more about modern pentathlon at the University of Bath by visiting www.teambath.com/modern-pentathlon.
Fourteen University-based sportspeople have now been officially selected by Team GB for the Tokyo Olympic Games, with the pentathletes joining nine swimmers and triathlete Vicky Holland. Team Bath judoka Ben Fletcher, Megan Fletcher (both Ireland) and Prisca Awiti-Alcaraz (Mexico) have all officially qualified through the world judo rankings.