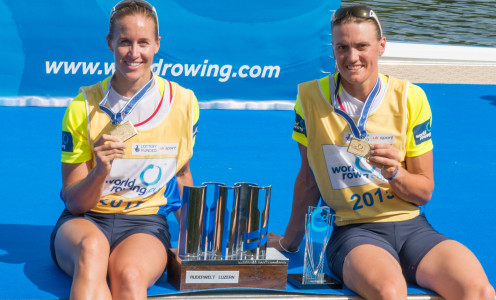 Rowers Helen Glover and Heather Stanning extended their remarkable international winning run to 27 races as they struck gold once again at the World Cup in Lucerne, Switzerland.
And there was cause for celebration for two current University of Bath rowers, Sam Courty and Frazier Christie, after they were named in the GB Rowing Team for next week's World U23 Championships in Plovdiv, Bulgaria.
Courty and Christie are both part of the Start programme at the Sports Training Village, a talent development scheme which set Glover on her way to becoming Olympic, World and European champion.
Her outstanding women's pair partnership with Heather Stanning first began at the University of Bath and continues to go from strength to strength, with their latest victory in Lucerne coming by a three-second margin.
"That was really pleasing because Helen called the race perfectly," said Sports Technology graduate Stanning.
"We saw New Zealand put in a push but Helen said 'stay there'. We had the stimulus outside the boat but we felt contained within it.
"We knew we were going to attack it because it was the last chance to put down a marker before the World Championships."
Glover added: "I felt like we were in control through all of it. In some sense, I guess, we expected a bit more of a race."
There was disappointment in Lucerne for Vicky Thornley who, like Glover, started her career on the Bath Start programme.
She caught a boat-stopping crab eight strokes into Saturday's double scull semi-final, which left her and partner Katherine Grainger unable to make up the ground.
That put them into the B final but Grainger and Thornley responded well to the setback by leading throughout and securing a clear-water victory, putting them seventh overall.
Coach Paul Thompson said after Saturday's semi: "There were rough conditions at the start and they didn't cope well but these things happen."
The next major event for British rowers is the World U23 Championships, taking place in Plovdiv, Bulgaria from July 22-26.
Courty, who graduated from the University of Bath this month with a Sports & Exercise degree, won a silver medal in the women's eight in 2014 – this year she will partner Emily Ford, Holly Hill and Melissa Walton in the four.
The crew have already enjoyed success together this year, at the Essen Regatta in Germany and in the Avril Vellacott Cup at Henley Women's Regatta.
Economics student Christie – who, like Courty, is supported by a Santander Sports Scholarship – has been selected in the men's quadruple scull along with Tom Barras, Andy Brown and Andy Joel.
The boat is coached by Dan Harris, Talent Development Coach for the Bath Start programme.
Picture of Helen Glover and Heather Stanning in Lucerne is courtesy of Peter Spurrier / Intersport Images