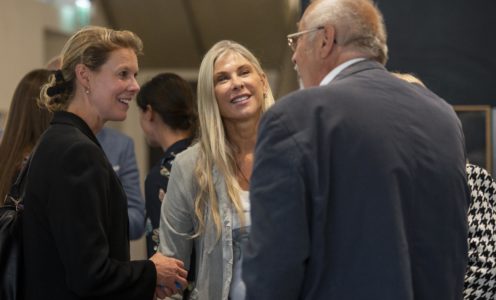 Fifty Team GB Olympians spanning six decades, including one of only two Holocaust survivors to compete at the Games, visited the University of Bath on Saturday for a special celebratory reception.
Sir Ben Helfgott, who captained the GB weightlifting team at both the Melbourne 1956 and Rome 1960 Games, and 90-year-old Michael Howard, a fencing silver-medallist in 1960, were the two most senior Olympians to attend the event, which took place in The Edge.
At the other end of the age scale was 19-year-old gymnast Amy Tinkler, the youngest British athlete to win a medal at Rio 2016, and all who attended were presented with unique Olympian pin badges to celebrate their involvement in the Games.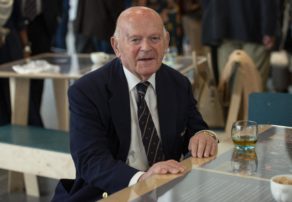 Fourteen sports were represented in total across both the Summer and Winter Games and among the Bath-based Olympians to receive pins were gold-medallists Amy Williams (skeleton) and Bryn Vaile (sailing), and silver-medallists Sharron Davies (swimming) and Samantha Murray (modern pentathlon).
Also in attendance was Dr Stephanie Cook, who was the first athlete to become Olympic champion while training at the University of Bath when she won modern pentathlon gold at Sydney 2000.
The event was organised by the World Olympians Association and staged alongside the Modern Pentathlon European Championships, also taking place at the University, which gave the guests the chance to cheer on Great Britain's Jamie Cooke as he won men's gold.
Howard – a founder member of the British Olympians Association – competed in modern pentathlon himself during his international career, as well as fencing, and was presented with an award recognising his contribution to the sport.
"It is lovely to be here and meet up with my fellow Olympians again," he said. "Modern pentathlon has progressed so much in recent years and having a facility like the University of Bath Sports Training Village as its home provides a good advantage to the potential internationals and Olympians based here."
The event was hosted by Dominic Mahony, a modern pentathlon bronze-medallist at the Seoul 1988 Games, and there were speeches from Joslyn Hoyte-Smith and Joel Bouzou, Chair of the British Olympians Association and President of the World Olympians Association respectively.