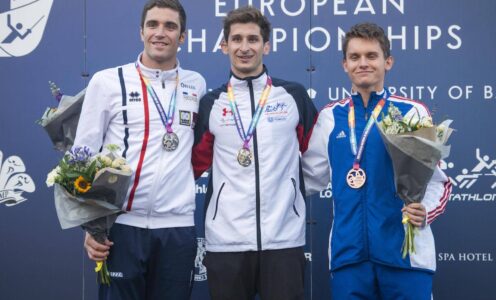 Jamie Cooke added the Modern Pentathlon European Championships title to his World crown and secured a Tokyo 2020 Olympic qualification spot for Great Britain after an outstanding performance in the men's final at the University of Bath Sports Training Village.
The home favourite led throughout an extended day of competition, building on the fastest swimming time with what he described as his "best fence of all time" before consolidating his lead with a controlled performance in a ride delayed by high winds.
That gave Cooke a 16-second advantage going into the decisive run-shoot and he never looked like relinquishing that lead as he came home to rapturous cheers from a big home crowd.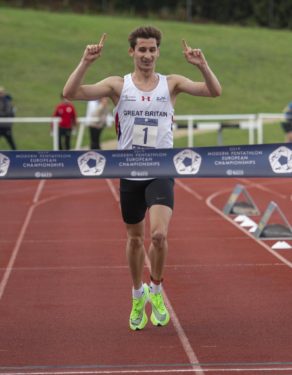 "It's been pretty much a perfect day for me," said Cooke, who trains at the University with Pentathlon GB. "The world is slightly upside down with my scoresheet today but I'm really, really pleased with it.
"The fencing for me was a bit of highlight – everything came together on the day and I kind of couldn't lose a hit, it was almost comical at one point. I made it slightly difficult for myself on the second shoot but I ran well so I'm really pleased.
"It's amazing to win here in Bath, the volunteers and everyone have been incredible."
There was double cause for celebration for Cooke as he also won team gold alongside fellow Brits Joe Choong and Tom Toolis, who placed fourth and 15th respectively. Sam Curry was the fourth Brit in action and finished 31st.
Choong had gone into the laser-run in second spot but was run out of the medals by defending champion Valentin Prades of France and the Czech Republic's Martin Vlach, who produced a superb display to surge up from 11th to third.
Prades, who was also runner-up when the Europeans were last staged in Bath four years ago, said: "It is clearly a place for silver for me! Jamie was so strong today and was too far from me but I will get my revenge at the World Championships next month.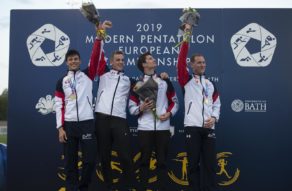 "The principle objective of today was to get my Olympic ticket so I am very happy."
Vlach added: "I started with a good fencing discipline, especially for me, because I had more victories than defeats, 19 against 16. After that, I just focused and tried not to make any mistakes. The riding was okay, then I focused a lot on the shooting and it went good!"
Choong, who already has an Olympic qualifying place following his World Cup Final win last month, said: "To be honest I've not felt 100 per cent today so to come away with fourth is amazing. At the beginning of the season I would have been delighted with fourth on my best day so to have a bad day and come fourth is pretty good."
Also securing one of the eight Olympic qualifying places available at today's competition for their countries were Lukasz Gutkowski (Poland), Bence Demeter (Hungary), Justinas Kinderis (Lithuania), Alexander Lifanov (Russia) and Patrick Dogue (Germany).
Click here for the story of how the day unfolded.
An outstanding week of international sport concludes on Sunday with the women's final, where once again the coveted European title and eight Tokyo 2020 Olympic qualification places will be up for grabs. The action starts at 8.15am with the swimming.
Tickets will be available on the door for the afternoon events – the ride and decisive run-shoot, which are scheduled for 3pm and 5.30pm respectively.