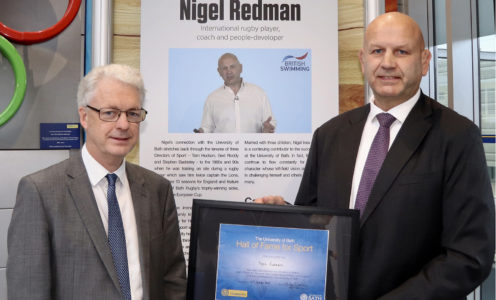 Nigel Redman – a British Lions, England and Bath Rugby legend whose people development skills have helped nurture a generation of top-class coaches and athletes – today became the latest inductee into the University of Bath Hall of Fame for Sport.
Among those in the Team Bath family who have benefited from Redman's creative thinking and supportive mentoring over the past 20 years are Bobby Crutchley and Jess Thirlby, who have since progressed to national coach status with Great Britain Hockey and England Netball respectively.
Redman, who is currently Head of Performance Team Development with British Swimming, was welcomed into the Hall of Fame during a ceremony conducted by Professor Ian White, Vice-Chancellor of the University of Bath, and attended by coaches, athletes and staff across a host of different sports.
"At the University we really are honoured to know and work with Nigel," said Professor White. "In addition to all of his amazing sporting achievements, he has an enduring thirst for new knowledge and a willingness to support others to achieve success. The Team Bath family knows and celebrates Nigel for his creative thinking and passionate guidance and mentoring of others."
Redman added: "I am very humbled to be in the Hall of Fame. The people are what define this place and even now I think it is unique that you can come to the Sports Training Village, sit and have a coffee in the Sports Café and see toddlers on one table and Olympians on another, surrounded by good people and supportive staff."
During his speech, Redman recalled his first visit to the University in 1983 when he was aged 18 and had been with Bath Rugby for just two weeks.
"The captain at the time was Roger Spurrell, who said we would be training at the uni – and were running there from The Rec," he said. "I didn't know where the University was [at the top of Bathwick Hill] so I was more enthusiastic than the older group of players! Where I am stood now for this ceremony was the rugby pitch and I've just watched this place grow over the years."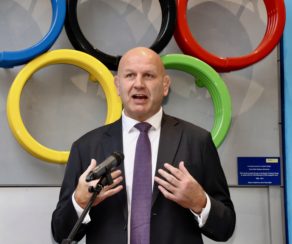 Redman was a key player during Bath Rugby's golden era and featured at lock in 17 of their trophy-winning sides, including the European Cup in 1998. He twice captained the British Lions during an international career that saw him represent England in the 1987 and 1991 Rugby World Cups.
After coaching Premiership club Worcester Warriors and England at U19, U20 and U21 level, Redman moved into a freelance people development role and, in a voluntary capacity, he has contributed significantly to many sport think-tanks, strategy groups and coaching forums at the University.
His most recent contributions on the global stage came in his current role with British Swimming, where he was responsible for people-development strategies for the successful Rio 2016 Games and is currently working towards Tokyo 2020. He is also a mentor and facilitator of Elite Coaching Apprenticeship Schemes for UK Sport and the FA Premier League among many other roles.
Redman joins fellow Bath Rugby hero and current England Rugby forwards coach Steve Borthwick in the University's Hall of Fame for Sport, which was established in 2014 to recognise the outstanding contribution made by athletes, coaches and administrators to sport at the University of Bath.