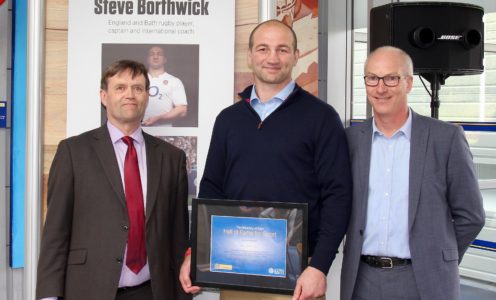 Former England, Bath Rugby and Saracens captain Steve Borthwick today became the latest inductee into the University of Bath Hall of Fame for Sport.
Borthwick – who is now forwards coach with an England squad that has won back-to-back Six Nations titles – combined a top-class playing career with studying Politics & Economics at the University, graduating in 2003.
"Thank you very much for inviting me to join the Hall of Fame," he said during the ceremony at the £30million Sports Training Village.
"I'm not really sure how I am worthy of being among such great names as Olympic gold medallists and people who have made such a huge impact in their sport.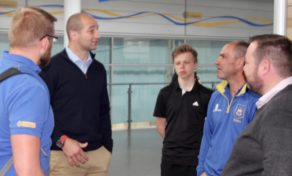 "Being back here has brought back plenty of memories. Lots of things have changed, like the building we are stood in, and some haven't – there are lots of people here today who were here when I was studying.
"The other thing that doesn't change is the impact that sport can have and how it helps people achieve their dreams. I was very fortunate to achieve a lot of my aspirations, both sporting and academically, and we are fortunate there is a place like the University of Bath where people are able to excel in both fields.
"It's a very special place where my career thrived, so thank you for making this happen today and thank you for helping generations of students and athletes."
Borthwick, who will be forwards coach for the British & Irish Lions this summer when they take on World champions New Zealand, was officially welcomed into the Hall of Fame by Steve Egan, the University's Vice-President (Implementation), and Director of Sport Stephen Baddeley.
"Steve totally embraced studying at Bath and says that it was a brilliant place to enjoy every aspect of student life, from studies to sport to social," said Egan.
"He admits it was a juggling act to compete at the highest level whilst studying for a degree, just like many of our current batch of almost 150 Dual Career elite athletes. Like them, he often turned up to lectures just in the nick of time, still in his kit.
"I love the fact that Steve says one of his strongest memories from his whole career was making his debut for Bath in front of a packed home crowd. Part of that day was taking the bus down to town from the campus to play and then riding the bus back up to Uni afterwards.
"I have no hesitation in welcoming one of the titans of his sport into our University of Bath Hall of Fame for Sport."
Baddeley added: "Steve was very humble during his speech but he is outstandingly worthy of being in our Hall of Fame and, on behalf of everyone at the University, we are delighted to induct him today."
Borthwick made his England debut in 2001 and went on to win 57 caps, 21 of them as captain, reaching the final of the 2007 Rugby World Cup in France.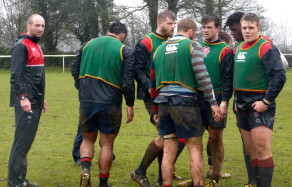 His then-record domestic career of 265 Premiership appearances included successful stints with Bath Rugby, who he led to European Challenge Cup victory in 2008, and Saracens, who he captained to the Premiership title in 2011.
Since retiring from playing in 2014, Borthwick has forged an excellent coaching partnership with Eddie Jones. They led Japan to an unforgettable win over South Africa at the 2015 Rugby World Cup before reviving England's fortunes during the past two seasons.
Borthwick returned to his alma mater in March 2016 as England trained at the University of Bath during their Six Nations Grand Slam campaign.
He is the 18th inductee into the Hall of Fame for Sport and the first rugby player. Other inductees include Olympic champions Jason Gardener (athletics), Heather Stanning (rowing) and Amy Williams (skeleton), and fellow international coaches Malcolm Arnold (athletics), Bobby Crutchley (hockey) and Lyn Gunson (netball).
Click here to see all the Hall of Fame inductees and find out more about the greats who have contributed to sporting life at the University of Bath.
Pictured at top: University of Bath Hall of Fame for Sport inductee Steve Borthwick (centre) with (left) Steve Egan, Vice-President (Implementation), and Director of Sport Stephen Baddeley (right). Credit: Bryn Vaile for Matchtight.