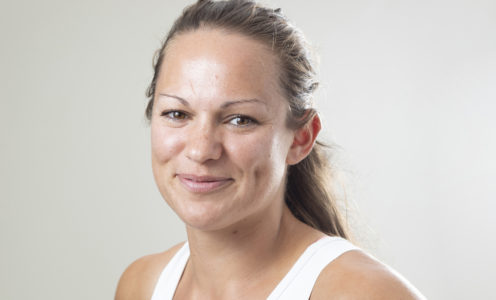 Sara Parfett arrived at the University of Bath a decade ago with an Olympic dream and is finally set to fulfil it in Tokyo this summer – but not in the sport she envisaged.
Parfett was a talented junior swimmer and joined Mark Skimming's student squad when she began a Biology degree in 2010. However, she also tried her hand at rowing and proved to be a natural, so much so that she successfully trialled for the University-based GB Rowing Team World-Class Start programme that produced double Olympic champions Helen Glover and Heather Stanning.
After graduating to the senior ranks in 2017, she is now heading to Tokyo alongside Glover in the Team GB rowing squad having been selected in the women's eight.
"None of us in the eight has been to the Games before and we're all really excited," said Parfett, who was coached in Bath by Paul Stannard – now part of the Team GB and British Rowing coaching team – and Dan Harris.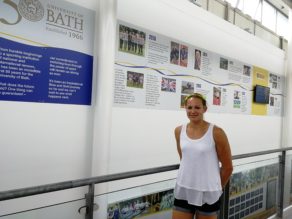 "We've missed out on a few things because of Covid, like a big Olympic team announcement or going to kitting out with other sports, but Helen spoke to us about her experiences and it was nice to hear someone else say 'you are an Olympian'. It gave us the chills, afterwards we were all like, 'we are actually going to be Olympians!'."
It is a dream that Parfett has long held and pursuing it in an inspirational high-performance environment was one of her key factors in choosing the University of Bath – home to the £35million Team Bath Sports Training Village and a host of Olympic and Paralympic medallists – as a place to study.
"I actually chose Bath based on the swimming coach and it having a 50m pool," she recalled. "Everything was geared up for swimming and I wanted to be an Olympic swimmer. I had broken my elbow not long before joining, though, and was always slightly aware I was maybe getting too old to push on.
"I joined the rowing club for a bit of fun and to have a club to go drinking with, without my swimming coach finding out. I got asked to do the Start test because I was tall enough and remember calling my mum to say 'I think I can be an Olympian in rowing', and she was like 'no, stick to swimming'!
"I thought I'd give it a go and it paid off. Maybe having that level of fitness and strength from swimming helped to give me a kickstart. It was hard giving up swimming but it opened another door to achieve my dream.
"One of the other reasons I chose Bath was the sheer number of elite athletes who train there. On my first day at uni I finished my swimming session, went to the gym and [2010 Olympic champion] Amy Williams was in there with the rest of the skeleton team. Bath Rugby were also training there and I remember doing some bench presses alongside them, although the weights were obviously a bit different.
"I remember there was a big poster of [400m hurdler] Dai Greene up after he won his world title and it renewed your faith every day. You thought if a world champion trains here then I'm in good hands, it always gave me that confidence.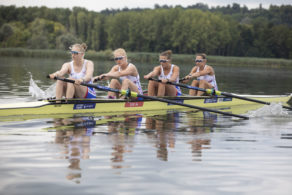 "We were in a nice bubble of elite athletes but it was also a family. Even when I swapped from swimming to rowing, my coaches were really good friends so it was a nice crossover. I've kept in touch with everyone since leaving and it's nice to have that support, I'm really proud to have been part of Team Bath."
Parfett and the women's eight take to the Sea Forest Waterway for their heats on Sunday 27th July in the same session as Glover begins her bid for a third successive women's pair title, this time with Polly Swann.
Rio 2016 medallist Vicky Thornley, another graduate of the Start programme at Bath, is among the first sportspeople to compete at the Games as begins her single sculls campaign on the morning of Friday 24th July before the opening ceremony later that evening.
"Leaving Tokyo with no regrets is my personal goal," said Parfett. "I don't want the smallest mistake to be my downfall and I've taken that mindset into my training and onto the water. As a team I think we want to do the best race we can and don't leave anything to chance, we all work really hard and everything we do is to make the boat faster. Hopefully by Tokyo we'll have done everything we could have done."