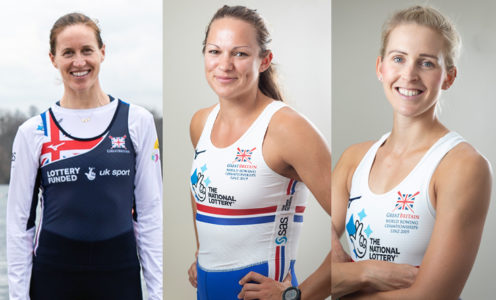 University of Bath alumna Sara Parfett will make her Olympic debut this summer alongside history-making Helen Glover and Rio medallist Vicky Thornley after the trio were today named in the Team GB rowing squad for Tokyo 2020.
All three began their rowing careers on the British Rowing World Class Start talent identification and development programme based at the Team Bath Sports Training Village and Minerva Bath RC.
Double gold-medallist Glover will become the first British rower to compete at the Olympics after having children, while Thornley will realise her dream of racing in the women's single scull on the biggest stage of all.
Parfett was originally part of the University's swimming squad when she began studying Biology in 2012, the same year that Glover and Thornley made their Olympic debuts in London – the former famously winning Team GB's first gold of the Games in the women's pair alongside Bath alumna Heather Stanning.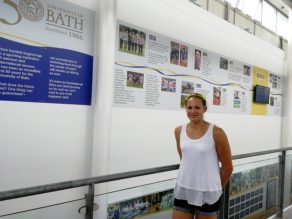 After successfully trying out at a Start talent ID event at the Sports Training Village, Parfett made the transition to rowing and developed her career under the guidance of Dan Harris before progressing into the senior GB Rowing Team squad in 2017 after graduating from the University.
Harris said: "Sara was always consistently training and diligent with it, taking responsibility for her development. She just really enjoyed it too, which is why she carried on rowing after Bath with Imperial College and then University of London. Her ability to just keep chipping away at training both when things were going well or through injury really stood out."
Parfett has been selected in the women's eight for Tokyo along with Fiona Gammond, Rebecca Edwards, Chloe Brew, Katherine Douglas, Caragh McMurtry, Rebecca Muzerie, Emily Ford and cox Matilda Horn.
Glover will once again contest the women's pair, the event in which she defended her gold with Stanning at Rio 2016 before taking a five-year break from the sport to start a family. Now a mother of three, she returned to the squad earlier this year and won European Championship gold with Polly Swann, who will partner her in Tokyo.
"This is the thing I was aiming for when I first came back," said Glover. "I genuinely thought it was an impossible mission this time last year but I always had this day in my sights and I feel really proud that it's here and that I've made the Olympic team.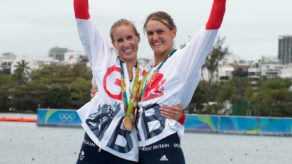 "I said I wanted to do it to represent other parents and people who didn't believe what was possible. I hope I have represented people strongly like that and that other rowers will think there are no barriers for them to get back into the sport.
"The thing I'm proudest of is how I've managed family life. I'm amazed that it's happened like this and want to thank my husband Steve, my family and all at British Rowing for their support."
Thornley, after rowing in the women's eight at London 2012 and winning silver with Katherine Grainger in the double sculls at Rio 2016, is taking to the water solo this summer in the single scull.
"When I started this journey my long-term goal was to compete at the Olympics in the single, so to be selected in this boat is a really special moment," she said.
Both Glover and Thornley were coached on the Start programme at Bath by Paul Stannard, who will once again coach the men's quadruple scull at a second successive Olympic Games. Harry Leask, Angus Groom, Tom Barras and Jack Beaumont won bronze at last month's World Rowing Cup in Italy.
Sam Courty, a Sport & Exercise Science graduate who also began her career with the Bath Start programme, will sadly miss the Games through injury but has already begun refocussing on Paris 2024.
View this post on Instagram