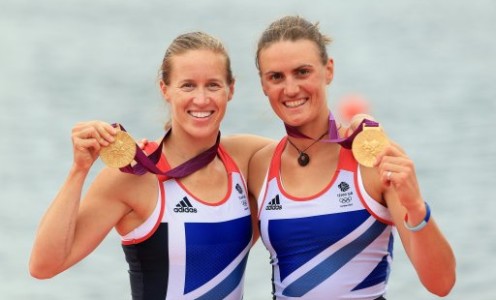 Medals, records and some history in the making – that was the University of Bath's story in the sporting arenas at the London 2012 Olympic Games, where athletes with Bath links had a hand in Great Britain's first and last medals of the Games.
Past and present students and athletes from the University were in impressive form at the Olympics.
Some 25 athletes who train at the University were selected to compete across seven sports at the Games. The vast majority were representing Team GB, with one each from Egypt and Ghana.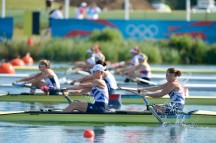 And they joined a host of alumni who had studied or honed their sporting skills at the University.
University of Bath Sports Technology graduate Heather Stanning and her rowing partner Helen Glover were first up.
The pair learned to row at the GB Rowing Team's Start programme at the University and it was fitting that they were the first athletes with University of Bath links to go into action at the Games, rowing in the women's pair at 9.30am on day one.
The Olympic debutants were in impressive form, setting a new British record to win their heats and progress direct to the final.
Four days later they produced an equally impressive performance, rowing with confidence and determination to win gold. It was Britain's first gold medal of the Games and, perhaps surprisingly, the first time a GB women's rowing crew had won Olympic gold.
Athletes, staff and customers at the Sports Training Village cheered them to victory watching them at the new video wall at the Sports Training Village – a facility that would continue to draw fans throughout the Games.
In the meantime, Sports Performance student and Bath Intensive Training Centre swimmer Michael Jamieson was making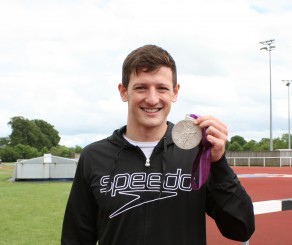 waves in the pool. He looked in magnificent form as he set a British record in the heats of the 200m breaststroke on Tuesday 31 July. Friend and training partner, Andrew Willis also impressed, equally his own English record to progress to the semis.
They both went better in the semis, with Jamieson again breaking the GB record and Willis breaking his English record.
The following day, within hours of Stanning and Glover crossing the finishing line at Eton Dorney, Jamieson came home in second place in the pool to win a silver medal in yet another British record. Chemical Engineering student Willis came home in eighth place.
Jamieson said: "I've had so many messages of support, it's been unbelievable, I was desperate to get on the podium tonight to repay the support.
"I've gone over this in my head for so many years, I'm delighted."
And former Team Bath judo player and Sports Performance graduate Gemma Gibbons competed a fantastic 30 hours for the University with a hard-fought silver medal in the under-78kg judo on Thursday 2 August. She had to do it he hard way, beating France's reigning World Champion Audrey Tcheumeo in the semis.
French and Politics student Samantha Murray wrapped up an impressive Games for the University of Bath by winning Team GB's very last medal of the Olympics – a modern pentathlon silver. The 22-year-old produced a terrific all round performance to become the fifth Bath-based British woman pentathlete to medal at Games since the sport for women made its Olympic debut at Sydney 2000.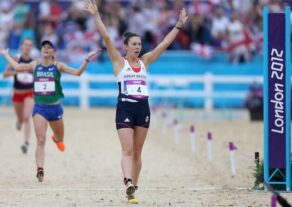 "I'm completely elated, it was such good fun today. It's been an amazing day," she said. "It was an honour to compete in front of a home crowd, it was a complete dream to have them screaming for me. I'm so glad I could give something back."
Mhairi Spence, a Coach Education and Sports Development student, came 21st, while Nick Woodbridge and Sam Weale, a Sports Technology graduate, finished 10th and 13th in the men's competition a day earlier.
Athletes based at the University also made some history at the London 2012 Olympics. Georgina Cassar, Jade Faulkner, Frankie Fox, Lynne Hutchison, Louisa Pouli and Rachel Smith became the first GB rhythmic gymnastics group to compete at an Olympic Games, withCassar becoming Gibraltar's first Olympian.
Coach Sarah Moon explained the group had already achieved their medal by getting to the Games. The group produced two beautiful performances to the delight of the crowd at the Wembley Arena and inspiring future generations of rhythmic gymnasts.
Emmanuel Nartey meanwhile made history by becoming the first Ghanaian judo player to compete at an Olympic Games.
Egyptian player Hadia Hosny El Said played some nice badminton competing at her second Olympic Games. Days after making her exit from the women's singles competition she was back in Bath writing up some work towards her MSc in Medical Biosciences, before heading back to the Olympic Village ahead of the Closing Ceremony.
And there were other impressive performance by track and field athletes based in Bath. Lawrence Clarke produced the performances of his life to reach the 110m hurdles final and then finish fourth. There was disappointment for Andrew Pozzi, who like Clarke is also coached by Malcolm Arnold, UK Athletics National Events Coach Hurdles. He didn't finish his heat through injury.
Also in the Olympic Stadium, Dai Greene came fourth in the 400m hurdles final. His preparations for the Games had been hampered by injury and he declared himself short on endurance preparation. Training partners Jack Green and Eilidh Child went out in the semis in the men's and women's 400m hurdles respectively.
Greene and Green both ran in the 4x400m relay final as GB finished fourth, while Child helped GB in the 4x400m final. French and Politics graduate Marilyn Okoro didn't get a run.
Sports Performance student Danny Talbot featured in the 4x100m relay quartet but the team were disqualified in the heats.
Coach Education and Sports Performance graduate Lee Merrien was the highest placed Brit in the men's marathon in 30th.
In swimming, Michael Jamieson just missed out on a second medal as GB finished fourth in the 4x100m medley relay final.
Fellow Bath ITC swimmer Siobahn-Marie O'Connor swam in an Olympic final in the women's medley relay at the tender age of 16. There was also Olympic debuts at London 2012 for Chris Walker-Hebborn and Stacey Tadd.
In beach volleyball, Zara Dampney and Shauna Mullin won their opening contest at Horse Guards Parade but lost the next two prelims and the lucky losers – but their performances will have inspired more interest in the sport.
GB judo player Gemma Howell, who is about to start a Sport and Exercise Science degree at the University of Bath, made her Olympic debut but had the misfortune to be drawn against France's reigning world and European champion Gevrise Emane in the opening round.
There was also an Olympic debut for Mathematics and Computing graduate Natalia Sheppard, competing in the individual and team foil. GB finished eighth in the team event.
And Victoria Thornley, who learned to row as part of the GB Rowing Team's Start programme in Bath, was a member of the GB women's eight finishing fifth in their final.
Staff from the University of Bath also played important roles at the Games, both working for National Olympic Associations and for London 2012.
The University of Bath hosted athletes from a range of nations that finalised their London 2012 Olympic preparations. They included swimmers from China, badminton players from Malaysia, track and field athletes from Russia, as well as judo players from Nauru and Barbados, swimmers from Libya and track and field athletes and swimmers from St Vincent and the Grenadines.
Some of them went on to win medals too. The pick of the bunch was Chinese swimmer Sun Yang, who collected a pair of golds (400m & 1500m freestyle), as well as a silver (200m freestyle) and a bronze (4x200m freestyle relay).
Ye Shiwen also won a brace of gold medals, while Jiao Liuyang also won a gold and Tang Yi a bronze (100m freestyle).
In badminton, Lee Chong Wei won his second successive Olympic silver medal in the men's singles, going down in the final to Lin Dan, China's world number one in the final.
What a Games!