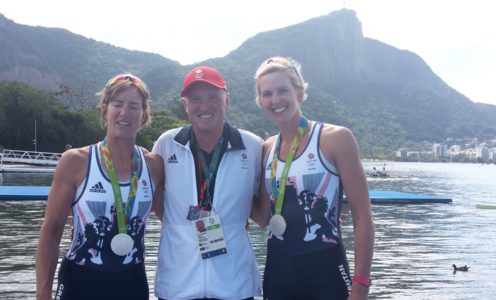 Vicky Thornley became the latest graduate of a highly-successful rowing talent development programme at the University of Bath to win an Olympic medal as she helped Katherine Grainger make Team GB history during an incredible race at Rio 2016.
They went into the women's double scull final on the back of an incredibly difficult summer, which saw their partnership dissolved after a poor performance at the European Championships but reformed after they failed to earn a place in the women's eight.
Thornley and Grainger rose to the occasion when it really mattered, though, producing a truly courageous and inspirational performance to lead the final for 1,800m. Poland were able to come through in the dying stages to take gold but GB held on for an outstanding silver.
It was a fifth medal in as many Games for Grainger, making her Britain's most decorated female Olympian of all time, and a first for Thornley, who was fifth with the women's eight at London 2012.
The former showjumper and model got into rowing through the Sporting Giants talent identification scheme in 2007 and learnt to row on the GB Rowing Team Start programme, hosted by the University of Bath and Minerva Bath Rowing Club.
Two of her training partners at the time were Helen Glover and Heather Stanning, who famously won women's pair gold at London 2012 and are favourites to defend their title in the Rio 2016 final on Friday (3.06pm BST) after winning their semi in impressive style on Thursday.
After receiving her silver medal, Thornley said: "I am so thankful to Katherine, she did everything so well in the race. It was a really great race from us and a silver medal is pretty nice I think."
The GB Rowing Team Start programme in Bath will be staging trials for aspiring Olympians in the coming weeks. More details about the scheme can be found by clicking here.
Pictured: Vicky Thornley (right) with Katherine Grainger and coach Paul Thompson after winning women's double scull silver