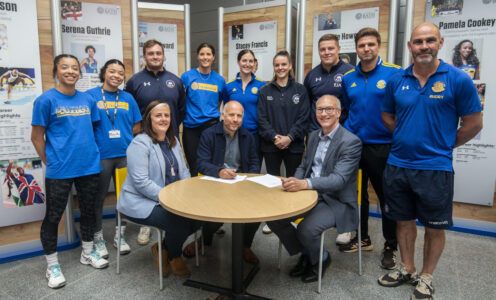 Team Bath, the sports department for the University of Bath, is delighted to announce a new three-year partnership with Bath Building Society.
The link-up between two of the city's most recognised brands, both within the local community and nationally, will see Bath Building Society support sport and fitness at all levels within Team Bath – student, recreational and high-performance.
It will also provide additional backing to the Team Bath Netball Superleague team, the University of Bath student netball club, Team Bath's BUCS Super Rugby men's squad and Team Bath Tennis, with the Bath Building Society logo being adorned on their kit.
Stephen Baddeley, Director of Sport at the University of Bath, said: "We are delighted to welcome Bath Building Society into the Team Bath family. It is an exciting partnership between two high-profile Bath brands with proud and thriving links with the local community.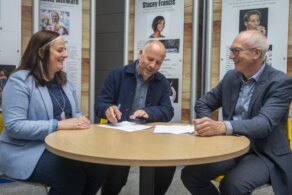 "Thank you to Bath Building Society for supporting sport at all levels, from toddlers playing tennis for the first time to our student clubs and high-performance teams."
Colin McDougall, Chief Commercial Officer of Bath Building Society, added: "We're delighted to be able to put our support behind our local athletes. Being able to help make a difference in the community is incredibly rewarding for our team and we love the connections it creates, inspiring the next generation of young athletes through the strong community programme benefiting from the enthusiasm, talent and training at the Team Bath Sports Training Village."
As part of the partnership, Bath Building Society are creating an 'Improving Your Financial Fitness' campaign which will highlight some of the accounts and preferential rates on offer to the thousands of students, young families and local people who visit the £35million Sports Training Village every week.
Mr McDougall said: "We are all about improving financial health and wellbeing, and Team Bath is all about fitness so it felt like there was a good synergy between the two.
"We focus on encouraging good habits and best practices, in the same way that sports do. We try to get young people to have better financial resilience but also prepare themselves for hopefully buying houses. If you can form that regular saving habit when you are young, that carries into adulthood and hopefully will make our customers better prepared.
"We pride ourselves on having some of the best products on the market and many of them are only available to people who live, study or work in Bath, so that is our way of giving something back to the local community."
Pictured top: (Front, from left) Tiffany Hardie-Albutt and Colin McDougall (both Bath Building Society) with Stephen Baddeley, University of Bath Director of Sport; (back, from left) Jasmine Nightingale and Jemma Nightingale (University of Bath student netball); George Cave (Team Bath BUCS Super Rugby co-captain); Betsy Creak (Team Bath Netball Superleague); Holly Hutchinson and Freya Davies (Team Bath Tennis); Ed Ashcroft (Team Bath BUCS Super Rugby co-captain); Barry Scollo (Director of Tennis); and Aaron James (Head of Rugby).