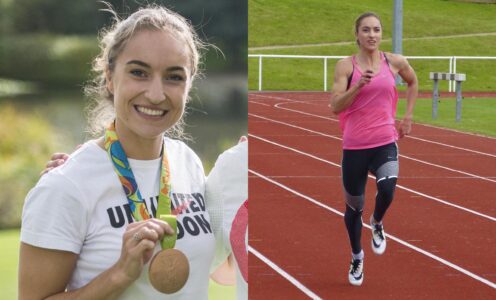 Emily Diamond, who won Olympic, World, Commonwealth and European medals while training at the University of Bath, has announced her retirement from athletics.
She was part of the Team GB squad at three Olympic Games, the highlight coming at Rio 2016 when she won women's 4x400m relay bronze with fellow Bath athlete Eilidh Doyle, Anyika Onuora and Christine Ohuruogu.
The following year, Diamond – a relay bronze-medallist for England at the Glasgow 2014 Commonwealth Games – anchored the British team to a home silver at the London 2017 World Championships.
Her last competition was the rearranged Tokyo 2020 Olympic Games in 2021, where she helped Team GB finish 5th in the women's relay and 6th in the new mixed 4x400m relay.
Diamond, from Bristol, first trained at the University of Bath aged 16 and was originally part of Paul Weston's long jump group – a discipline that both her mum and nan competed in. Her talent as a sprinter was soon recognised, though, and she transferred across to Dan Cossins' training group where she quickly developed into an international-level performer.
Announcing her retirement, Diamond told British Athletics: "After having my little boy in November 2022, I had every intention to come back and fight for my place on the Olympic Team for Paris. However, as the months have passed, I have realised my priorities have changed and as such, I wouldn't be able or willing to put in the hours and dedication to training that I know is required to compete at the top level.
"I have been incredibly lucky to have had a long international career spanning 14 years and I am even more grateful that during those 14 years I was able to qualify for three Olympic Games for Team GB, with my personal highlight winning a bronze medal with the 4x400m relay team at the Rio Olympics in 2016.
"I hope to stay involved in the sport for many years to come and have recently taken up a position coaching Athletics at Millfield School in Somerset. There are a large number of very talented students there, so I am very much looking forward to working with them over the next 12 months and beyond."