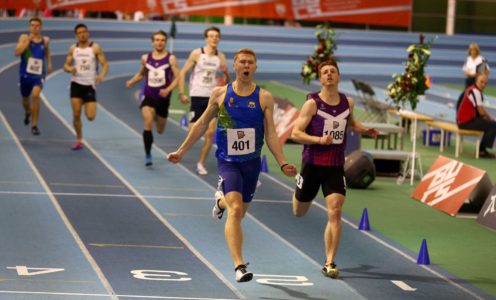 The University of Bath won 37 medals – 11 of them gold – as student-athletes enjoyed a successful weekend at the BUCS Nationals in Sheffield, one of Britain's biggest annual multi-sport competitions.
There were plenty of memorable moments on the athletics track, with Sport Performance student Cameron Chalmers – supported by a Thompson Education Trust Scholarship – equaling the championship record of 46.91 as he retained the men's 400m title.
A sensational last leg saw the women's 4x200m relay team of Bethany Close, Rachel Bell, Olivia Caesar and Rachel Donnison chase down Loughborough to take gold by two-hundredths of a second. Emma Nanson and Jade Simson had helped them qualify for the final.
That was Sport & Exercise Science student Caesar's second title of the weekend, following her success in the women's 400m, and Sport & Social Sciences student Pippa Rogan also topped the podium in the women's high jump.
Josh Olawore won silver in the men's long jump before teaming up with Chalmers, Josh Brown and George Marsh to take bronze in the 4x200m relay. Isobel Ives was also third in the 800m.
International Development with Economics student Emily Siebrecht won 400m individual medley gold in a world-class swimming meet that also featured British Swimming National Centre Bath stars Jazz Carlin, Siobhan-Marie O'Connor, James Guy and Andrew Willis as guest competitors.
MJ Church sporting ambassador Jay Lelliott – who, like Siebrecht, is a Santander Sport Scholar – won silver medals in the 200m freestyle, 400m freestyle and 200m butterfly. He also claimed two relay bronze medals – with Miles Munro, Charlie Pullan and Andrew Roy in the 4x100m freestyle and with Joe Burrin, Will Harrison and Thomas Sinclair in the 4x100m medley.
Further third-placed finishes went to Tom Derbyshire in the 1,500m freestyle, Oliver Maltby in the 100m butterfly and Shauntelle Austin, Mari Davies, Anna Hopkin and Rebecca Wilde in the women's 4x100m freestyle relay.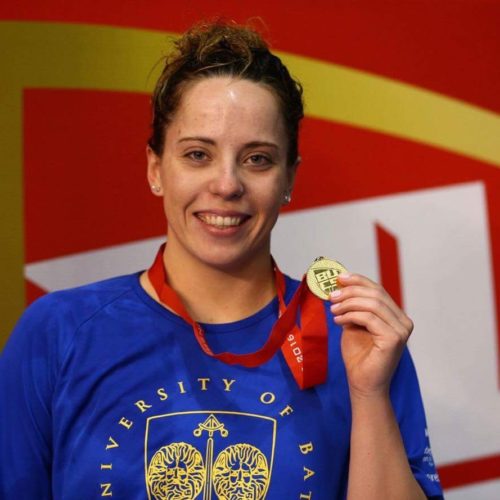 Emily Siebrecht with her gold medal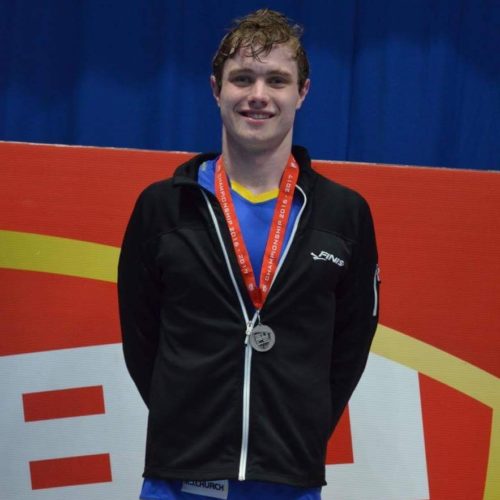 Jay Lelliott won five medals in total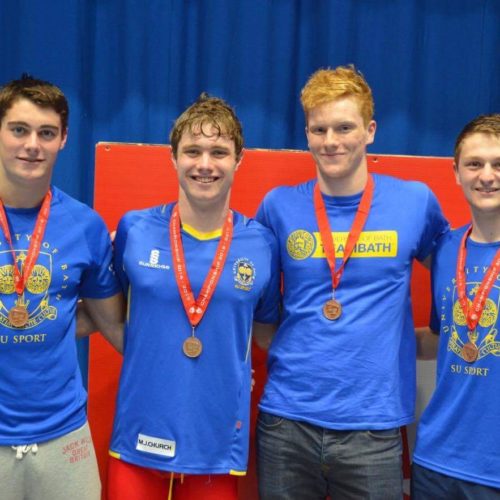 The 4x100m medley relay medallists
It was a fantastic weekend for the University's karate competitors as Rina Matsunaga (women's novice kata, novice kumite U57kg), Zachariah Barrow (men's novice kumite O80kg) and Luke Williams (men's senior kumite O84kg) all struck gold.
There were silver medals for Alex Powell (men's intermediate kata), Rose Nnando (women's novice kata), Laura Miles (women's novice kumite U63kg), Asuka Peace (women's senior kumite U61kg) and Andrei Ivtshenko, Frederick Lan Pak Kee, Powell, Williams and Andrew Woodford (men's team kumite).
Nnando also won bronze in women's novice kumite U63kg and in the women' team kumite with Charlotte Durant and Asuka Peace. Third place also went to Daniel Gardham (men's senior kumite U60kg), Robert Williams (men's senior kumite U75kg) and Catherine Wise (women's novice kumite O63kg) as Bath finished second overall in the team competition.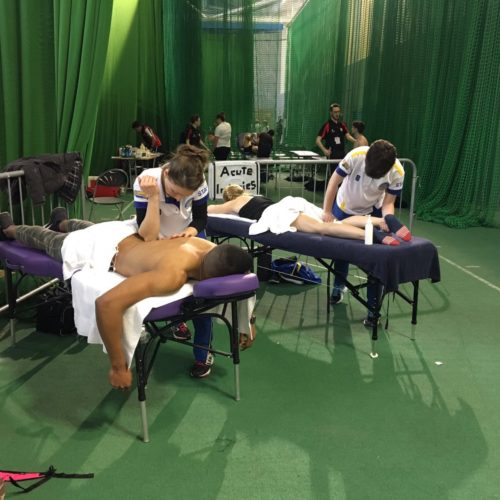 The physio and massage support staff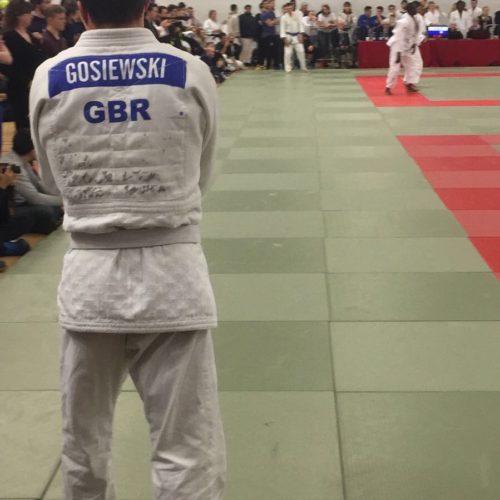 Judo gold-medallist Jan Gosiewski watches on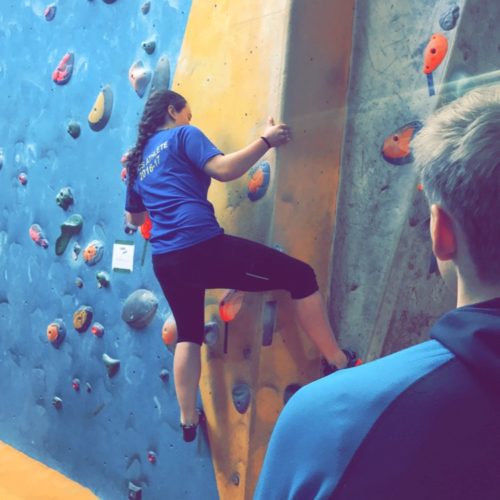 Bath students on the climbing wall
A high-quality judo competition involved gold medals for Jan Gosiewski (men's -81kg) and King Scholar Prisca Awiti-Alcaraz (women's -63kg), the latter also winning team bronze with Charlotte Bond and Hannah Rogers.
Trendell Sports Scholar Alex Lane fell just short in his men's badminton singles title defence, having to settle for silver after a hard-fought final. Bronze medals in the men's doubles competition went to two Bath pairings – Sam Dobson and George Priestman, and Josh Hong and George Nicolaou.
Caspian Watt was a sabre bronze-medallist in the fencing salle, while Bath students also competed well in the climbing and trampoline events.
More than 200 students proudly represented the Blue and Gold in total, receiving excellent backing from coaches and travelling support staff including Sport Science & Medicine Manager Sian Morgan, Senior Massage Therapist Gemma Prior-Reeves and physio Jack Dawkins.
The next big event in the BUCS (British Universities & Colleges Sport) calendar is BUCS Big Wednesday, the culmination of the regular league season, which is taking place at the University of Bath Sports Training Village on Wednesday, March 22 and will feature thousands of athletes from across the country.