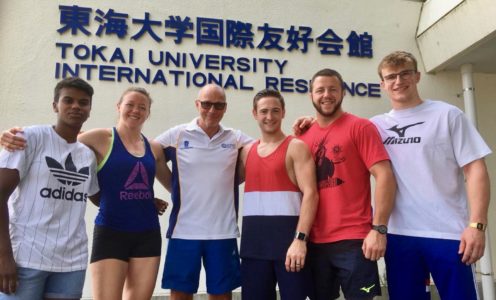 With exactly two years to go until the Tokyo 2020 Olympic Games get under way, Team Bath judoka aspiring to compete in Japan have been to the home of their sport for a productive three-week training camp.
Head Coach Juergen Klinger travelled to Tokyo with Rio 2016 Olympian Ben Fletcher, an ambassador for Team Bath partners MJ Church, Glasgow 2014 Commonwealth Games champion Megan Fletcher, Gregg Varey, Rhys Thompson and King Sporting Scholar Prica Awiti-Alcaraz, who graduated from the University of Bath in Sports Performance this summer.
They spent time at three universities in the Tokyo area – Tsukuba, Kokushikan and Tokai – and got to spar against some of the world's leading judoka as they focused on technique.
The Fletchers had previously spent three weeks at the US Olympic Training Centre in Colorado Springs as part of their preparations for September's World Championships in Azerbaijan.
However, the focus of the camps has also been on Tokyo 2020, with the two-year qualifying period for the Olympic Games having already begun.
Judo is just one of many sports that athletes training at the University of Bath will be bidding to compete in at the Tokyo Olympic Games, which will officially begin on July 24, 2020.
The Journey to Japan will pass directly through the University next summer when the 2019 Modern Pentathlon European Championships – a qualifying event for Tokyo 2020 – will be staged at the Sports Training Village, home of Pentathlon GB's National Training Centre.
Pictured: (From left) Prisca Awiti-Alcaraz, Megan Fletcher, coach Juergen Klinger, Gregg Varey, Ben Fletcher and Rhys Thompson during three three-week judo training camp in Japan.