The University of Bath has a proud history of helping student-athletes achieve their potential in both the competition and academic arenas.
But did you know we also offer the chance to learn practical skills like coaching, sports massage, personal training and first aid through Team Bath Training & Development?
The vocational courses, delivered by a team of elite practitioners and educators in the University's world-leading training environment, are ideal for those who combine study with sport or students looking to work in the health and fitness industry.
Among the current students to have benefited is Laura Macro, a member of the hugely-successful GB Rowing Team Start programme at the University that has produced the likes of Olympic champions Helen Glover and Heather Stanning. This summer saw Laura team up with Steph Clutterbuck in the women's double scull to become the first University of Bath crew to win a title at the Henley Women's Regatta. They also qualified for the Henley Royal Regatta and raced at the European University Rowing Championships.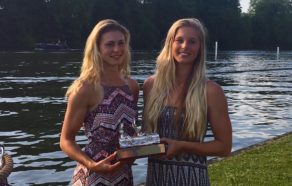 Laura is about to start the second year of a Sport & Exercise Science degree and recently completed a Level 1 Coaching Weight Lifting course, run by Team Bath T&D in association with British Weight Lifting.
"For anyone who does Sports Science as a degree, coaching is a pretty useful skill to have," explained Laura, who is supported by a Matrix Sports Scholarship.
"The course intertwined really well with my academic degree and my rowing training. The main bit was teaching the basic Olympic lifts like the squat, the clean & jerk and the snatch – I was already quite familiar with the techniques through my rowing training but it's different when you are coaching other people, you have to know what to look out for and how to explain it.
"We learnt how to run a coaching session and ways to make them most effective – the warm-up, the lifts and the cool down, what exercises you can use with different age groups and different abilities. There were eight people in my assessment, so figuring out the best way to demonstrate the techniques to a lot of people at once was very useful."
The course was run by Kris Borthwick, Strength & Conditioning Programme Lead at the University of Bath.
"We had two theory sessions in a classroom where Kris ran us through the course," Laura added. "He also came round for one-to-one chats as we worked through exercises in the booklet, making sure we understood what we were doing, and we then had a 15-minute practical assessment.
"One thing that was particularly useful was that we had feedback on what we had done well and where we could improve – it's not just a pass or fail, there was plenty of constructive feedback.
"I would definitely recommend the course, I don't know anyone who doesn't think it is useful. It is such an important skill to have on your CV and weightlifting exercises can be applied to so many other sports like rowing, rugby, football, judo and athletics."
Laura has already been putting her skills to good use by helping GB Rowing Team Start coach Dan Harris oversee weights sessions in the Team Bath Gym.
"We had a couple of girls come onto the Start programme recently and Dan let me have a go at teaching them the basics," she said. "It was great to feel confident enough to give it a go."
The next Level 1 Coaching Weight Lifting course is starting on October 28, with the assessment being held on November 18, but courses take place throughout the year.
For more information about the qualifications on offer, click here to visit our Training & Development section.