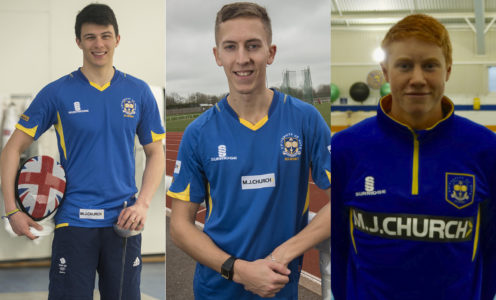 Today marks 500 days to go until the Tokyo 2020 Olympic Games and three students and graduates are among the multitude of University of Bath-based sportspeople ramping up their preparations for the world's greatest sporting show.
Pentathlete Joe Choong is aiming to join the ranks of double Olympians, and has a chance to qualify for Tokyo when the University hosts the 2019 Modern Pentathlon European Championships this summer, while 110m hurdler David King and swimmer Tom Dean have their sights set on a first Games.
Mathematics graduate Choong achieved an excellent top-ten finish in the men's competition at Rio 2016 and says he is continuing to improve as the current Olympic cycle approaches a crucial stage.
"Time has flown by since Rio and I'm starting to realise I'm not one of the youngest people in the field any more!" he said "I've kept improving since then, though, and my results have consistently been getting better and better year on year.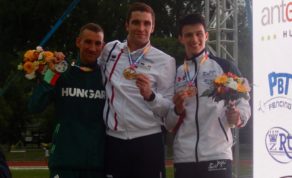 "I won my first major championship medal last year, a bronze at the European Championships, and I'm optimistic I am on the right path to medal at Tokyo."
Choong is hoping to get an early chance to compete in the Japanese capital when it hosts the World Cup Final in June.
"It is a test event for the Olympic Games, so my first goal for the year is to qualify for that and experience competing in Tokyo in summer conditions," he added.
King was back in training with James Hillier's athletics group at the University of Bath today as preparations began for the penultimate outdoor season before the Olympics.
"It's crazy that Tokyo is so close, it is the big moment for me," he said. "These milestone dates bring it home but the goal has always remained the same, we've always been looking to Tokyo."
A dual qualifying system has been introduced for 2020 and athletes can achieve the Tokyo standard by either setting the qualification time, which is faster than previously, or via the new IAAF World Ranking system. That is based on the average of the best five results for an athlete over the qualifying period, with points weighted on the importance of the race meeting.
The qualification period has also been brought forward to May 1 2019 and King said: "It's a bit complicated but the perfect situation would be just to get the qualifying time of 13.32 – it's what I want to be running anyway, so it's a good target."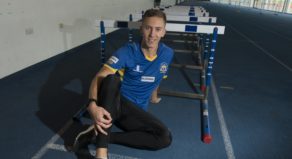 Sports Performance graduate King has just completed an indoor campaign that saw him perform consistently and represent Great Britain at the Glasgow 2019 European Championships, missing out on the final by the narrowest of margins.
"It was a really solid season until the last race, the semi-finals in Glasgow – I didn't start as well as I would have liked and there was a lot of contact, which happens in hurdles, which threw me a bit. Considering how bad I felt the race went, I only missed out on qualifying by one-hundredth of a second.
"I feel I'm running better than I have ever done and there are lots of positives to take into the outdoor season. I'm going to keep working hard and hopefully the results will come."
Like Choong and King, fellow MJ Church Ambassador Dean also feels like he is improving all the time after joining the hugely-successful British Swimming National Centre Bath where he combines training with studying Mechanical Engineering.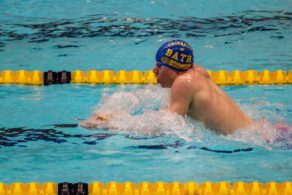 The individual medley specialist, coached by David McNulty, won European Championship 4x200m medley relay gold shortly before moving to the University and last month set two Championship records while representing Team Bath at the BUCS Nationals.
"Since joining the National Centre in Bath, it has really brought the Olympics firmly onto the horizon as all of our training is geared towards Tokyo," he said.
"It was always in the back of my mind but since coming here, where all the swimmers and staff are working towards that goal, it ensures that it is the focus.
"It's 13 months until the trials that will determine the British team and 500 days until the actual competition – it's an exciting time."
National Centre Bath swimmers have won five medals at the past two Olympic Games and Dean, who is supported by a Bill Whiteley Sports Scholarship, has no shortage of knowledge he can tap into as he targets Tokyo qualification.
"The British Swimming coaching team of Dave and Jol Finck have plenty of Olympic and championship experience between them, as have Mark Skimming and Andrei Vorontsov on the student side," he said.
"I got the chance to speak to Michael Jamieson when he came back for his Hall of Fame induction recently, that was really interesting, and obviously I get to train alongside people like Siobhan-Marie O'Connor every day – it's great to be in that environment."
The road to Tokyo 2020 will pass directly through the University of Bath from August 6-11 when the Sports Training Village hosts the 2019 Modern Pentathlon European Championships, an Olympic qualifying event. Tickets are on sale now – click here to find out more.