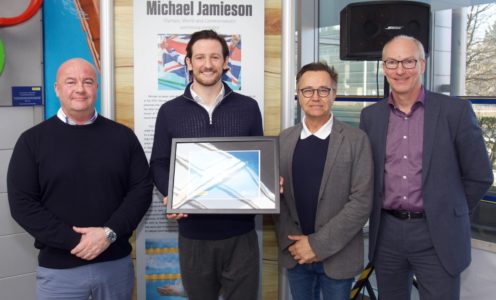 Olympic swimming medallist Michael Jamieson today returned to the University of Bath, the place where he both trained and studied, to become the latest inductee into the Hall of Fame for Sport.
Jamieson famously won 200m breaststroke silver at the London 2012 Olympic Games, smashing the British record three times during the championships and only being denied gold by a World Record swim from Hungary's Daniel Gyurta.
He also won silver at both the Delhi 2010 and Glasgow 2014 Commonwealth Games, the latter in his native Scotland, and earned podium places at the World and European Short-Course Championships during his six years with the British Swimming National Centre Bath squad.
Jamieson spent the first four of those years, from 2009 to 2013, combining training and competing at the highest level with studying Sports Performance, where he was supported by a Santander Sporting Scholarship.
A hugely popular figure around the Sports Training Village, Jamieson was voted by his fellow students as University of Bath Sports Personality of the Year in 2013 and was the unanimous choice to officially open the refurbished London 2012 Legacy Swimming Pool in 2015.
"Thank you to the University of Bath for this really nice honour," said Jamieson, who was welcomed into the Hall of Fame for Sport by University of Bath Director of Sport Stephen Baddeley.
"I have really fond memories of here. I remember coming in 2009 and asking Dave [McNulty] if he would take me into the team because I knew I needed to improve if I wanted to get onto that podium in London.
"Everything that I accomplished here was thanks to Dave and the rest of the team. When I look back now, you realise it was never about the medals – it's about the way you chase the medals and the relationships you create along the way, and I made friends for life here."
National Centre Bath Lead Coach David McNulty – who, alongside Graeme Antwistle, coached Jamieson during his time at Bath – attended the Hall of Fame induction along with current members of the swimming squad, including fellow Olympic medallist Siobhan-Marie O'Connor.
British Swimming National Performance Director Chris Spice was also in attendance and said: "MJ had a fantastic career with us. London 2012 was clearly his biggest event and he swam PBs in every round, smashing the British record each time. It was nothing short of outstanding.
"After 2012 he became part of British Swimming's leadership team and was very much someone who led by example. Sitting on the pool deck, you could see how inspirational he was to the other athletes around him simply by the way he trained, how he went about his business and the dedication to his craft.
"We are very proud of you and, on behalf of British Swimming, we want to say well done on this award."
Jamieson is the fourth swimmer to be welcomed into the University of Bath Hall of Fame for Sport, joining multiple World Champion Mark Foster, Sydney 2000 Olympic medallist Paul Palmer and seven-time Paralympic Champion Sascha Kindred.
There are now 24 inductees into the Hall of Fame for Sport, which was established in 2014 to recognise the outstanding contribution made by athletes, coaches and administrators to sport at the University of Bath and Team Bath. Click here to see the full list.