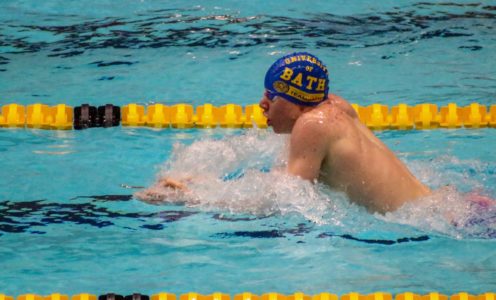 There were two new championship records for swimmer Tom Dean and 25 medals, seven of them gold, as sporting University of Bath students impressed at the 2019 BUCS [British Universities & Colleges Sport] Nationals in Sheffield.
MJ Church Ambassador Dean (pictured), a 2018 European Champion who is in the first year of a Mechanical Engineering degree and supported by a Bill Whiteley Sports Scholarship, eclipsed Olympic medallist Duncan Scott's previous mark as won 200m freestyle gold in 1:47.38.
Dean then beat Rio 2016 Olympian Max Litchfield to the 200m individual medley crown, taking his second gold of the weekend in a record time of 2:00.25.
British Swimming Sporting Scholar Tom Derbyshire, who studies Sport & Exercise Science, also won double gold at Ponds Forge after clocking impressive times of 8:18.08 in the 800m freestyle and 15:33.72 in the 1,500m freestyle.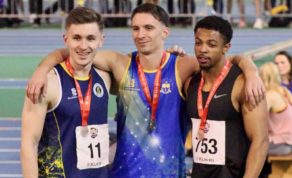 He led a Bath one-two on both occasions, with Matthew Wright taking 800m silver in 8:29.00 and William Ryley finishing 1,500m runner-up in 15:46.20.
Ryley finished just outside the medals in the 200m backstroke and there were further fourth-placed finishes for Oliver Maltby in the 100m butterfly and Santander Scholar Jacob Greenow in the 200m individual medley, as well as five Bath relay teams.
There was a medal of each colour for Bath students on the athletics track, with Sports Performance Masters student James Gladman claiming a thrilling men's 200m victory in 21:11.
Civil Engineering student Isobel Ives took 800m silver in 2:08.69 and Thompson Education Trust Sporting Scholar Ben Claridge, who studies Sports Performance, won 400m bronze in 48.36.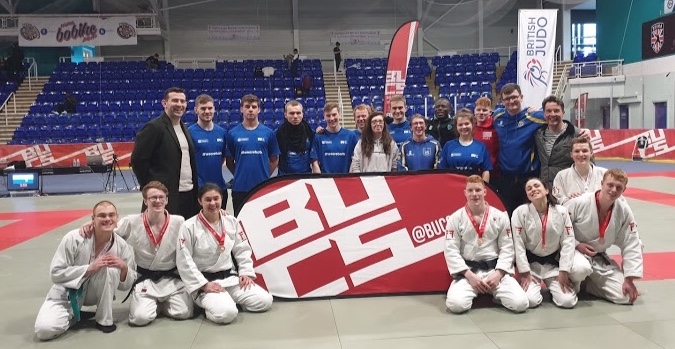 Bath enjoyed tremendous success in the martial arts competitions, with nine medals coming in the judo dojo.
Jack Purllant, Louis Delsol, Harry Boby, Harry Stone and Iosif Tsepov won men's team championship gold, while Charlie Bond, Sophie Johnson and Hannah Rogers took bronze in the women's team competition.
In the 1st kyu (brown belt) and above category, Purllant won men's -60kg silver and there were bronze medals for Olivia Smith (women's -52kg), Rogers (women's -78kg), Thomas Nash (men's -73kg) and Stone (men's -81kg).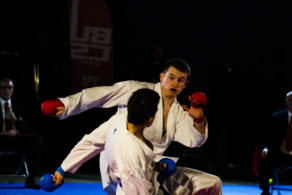 The 2nd kyu (blue belt) and below category saw Callum Osborne win men's -60kg silver and Tsepov take men's -90kg bronze.
In the karate competition, Bath won gold in the men's team kumite and there were individual silver medals for Sophie Atkinson (women's novice kata), Rina Matsunga (women's senior kumite -50), Asuka Peace (women's senior kumite -61) and Luke Williams (men's senior kumite +84).
Badminton player Andrew Heinemann won men's singles bronze after narrowly being edged out 21-16 11-21 22-24 in the semi-finals.
Completing the Bath medal collection was Caspian Watt, who won men's sabre bronze in the fencing salle.
SU [Students' Union] Sports Officer Andy Galloway said: "There were some fantastic performances from student-athletes wearing the Blue & Gold over the weekend. Congratulations to all who took part and thank you to the coaches, the Department of Sports Development & Recreation and SU staff that helped make these achievements possible."
Find out more about The SU Bath's student sport offering by visiting www.thesubath.com/sport or www.facebook.com/thesubathsport.