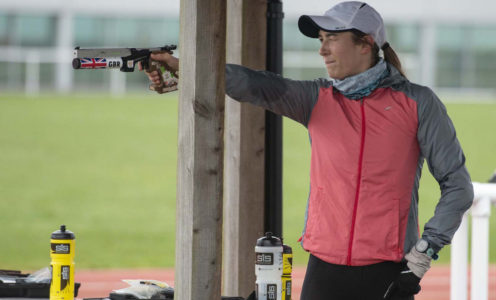 The Tokyo Olympic Games may still be a year away, rather than one day, but the focus and motivation remains strong for elite athletes based at the Team Bath Sports Training Village.
The Coronavirus-prompted decision to postpone the Games – which had been due to start tomorrow (Friday) – until July 23, 2021, was initially a huge blow to the aspiring Olympians who train at the University of Bath facility in sports such as athletics, judo, modern pentathlon, swimming and triathlon.
However, with some of the groups now back in training – albeit limited and under strict government regulations and social-distancing guidelines – an air of renewed excitement, anticipation and determination is starting to build.
Joe Choong, who is among the Pentathlon GB athletes back doing some swimming and laser-run training at the STV, went into 2020 ranked number one in the men's world rankings having set the Tokyo Olympic qualifying standard by winning the World Cup Final in Japan last summer.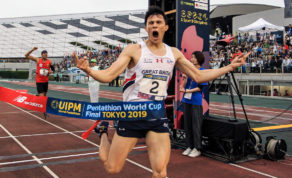 He admits the postponement was frustrating at first but says he has been able to reset his targets for 2021, although the aim of a podium place in Tokyo remains the same.
"Mentally I feel like I'm back in the same position as I was 12 months ago when we were originally looking at one year to go," said Choong, a Mathematics graduate at the University.
"It couldn't have been going much better before the lockdown, I had medalled in a number of successive competitions and I felt really good in training so it was obviously disappointing when the Olympics were postponed. It was tough at first to get my head round the fact it's going to be another year but I have been able to reset and refocus.
"Physically there was probably only one week during lockdown where we weren't doing some training, like running or open-water swimming, but it was definitely good to get that mental break. I feel refreshed and I'm raring to get going again."
Another pentathlete who was in fine form before the lockdown was Jo Muir, who topped the women's Olympic qualification rankings after winning gold at what proved to be the only two international events of 2020.
"My approach is not to think about what might have been as there is nothing that can be done to change what happened, all I'm doing is focusing on 2021," she said. "Because there are no competitions planned at the moment, in some ways it takes the pressure off as we can build back into training slowly and make sure we don't run the risk of injury.
"I'm also looking at it as having another 12 months to improve and work on my weaknesses. I feel even more motivated now after having some time away from it all, it's made me realise how much I want to be at Tokyo."
Also taking the positives from the delay is swimmer Tom Dean, a Bill Whiteley Sporting Scholar who has taken a year out of his Mechanical Engineering degree at the University to focus on his Tokyo ambition.
The 20-year-old had smashed his personal best while winning 400m freestyle silver at December's European Short-Course Championships before claiming two gold medals at the Edinburgh International Meet in March.
While the delay to the Olympics was frustrating, Dean – who has been back in training with the British Swimming National Centre Bath elite squad at the STV since early June – believes the additional 12 months of preparation time could put him in an even stronger position when Tokyo finally arrives.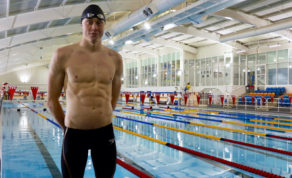 "We very much have our sights set on next summer," said Dean, who is coached by David McNulty. "We're going to come back stronger with another great year of training behind us and I'm very excited about that.
"The big concern at the start was about motivation levels and it was tough with the announcement of the Games being postponed but I learned that I still have this drive to be as fit as I possibly could when I got back. That has pushed me to work hard with all those things, the cardio, the gym sessions and everything that went along with it.
"That was an important learning point for me and there was definitely a positive outcome that followed on from it."
Another athlete who has taken advantage of the enforced rest period to refresh and recharge is Team Bath judoka Ben Fletcher, who is well on course to qualify for his second Olympic Games having competed at Rio 2016.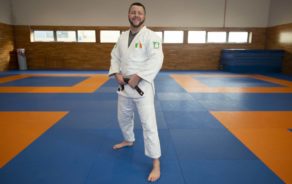 "The Olympic qualifying period in judo is so long and intense, there are competitions all year round, and I hadn't had a proper break since the last Games, so it has definitely been nice to have that rest," he said. "If anything it has made me appreciate and enjoy my judo again, and it has given me the motivation to finish qualification strongly – I am 100 per cent focussed on being in Tokyo this time next year."
Fletcher and sister Megan, a Commonwealth champion who also trains at Team Bath, moved back to their family home in Reading at the start of lockdown and are still there at the moment as judo starts its first tentative steps back towards full-contact training.
"Megan and I are lucky that we've been able to do some sparring sessions unlike lots of other judoka, not a lot but enough to keep us ticking over," he said.
"We've been keeping in regular contact with our coaches, Juergen Klinger and Ciaran Ward of the Irish Judo Association, and making sure we are all on the same page. We have set ourselves some new goals physically and things seem to be going in the right direction at the moment."
The return of a limited number of athletes and coaches to the STV during the past few weeks has allowed Team Bath staff to fully test procedures, signage, one-way systems, cleaning regimes and social distancing in advance of a phased reopening to members in early August. Click here for further details.