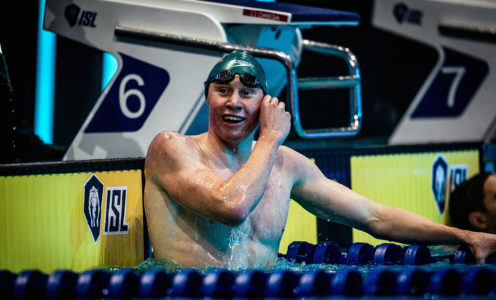 With exactly six months to go until the rescheduled Tokyo Olympic Games are due to begin, Tom Dean believes the delay could work in his favour as he seeks to follow in the wake of some celebrated University of Bath-based swimmers.
It is 25 years since Paul Palmer became the first sportsperson to bring an Olympic medal back to the Team Bath pool, a 400m freestyle silver in Atlanta, and another 11 swimmers and five pentathletes have gone on to earn a coveted Olympic or Paralympic podium place since.
Securing qualification for his first Games is his primary goal but 20-year-old Dean is well aware of his training centre's history of success and is keen to write his own chapter.
"For a young swimmer, joining a centre like Bath with so much history and heritage was and remains inspirational," said Dean, who is coached by Dave McNulty.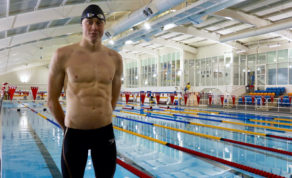 "When I first joined the British Swimming National Centre Bath in 2018, I knew I was coming to a place where so many great sport stars – from swimming and beyond – had come through to enjoy success. I was also joining the most successful British swimming coach of all time in Dave – someone whose athletes won four medals at Rio 2016, who helped Michael Jamieson win silver at London 2012 and Jo Jackson win bronze at Beijing 2008.
"I love working with Dave and he was instrumental in me being able to refocus after the Olympic Games were postponed last summer. It was a huge setback for all of us, swimmers and coaches, as the Olympics are what we build a whole four-year cycle of training towards but my mindset quickly turned to the positives I could take from the delay.
"Fortunately I am only 20 and at the start of my career. Swimmers tend to peak around 22, 23 so Dave said the delay could even prove a blessing in disguise as I will be another year closer to the pinnacle of my career when the Games come around. I just had to change my focus slightly.
"The first lockdown was the longest time probably any of us in the training group have had away from the pool since we first started swimming. It was obviously frustrating at the time but looking back now, it was a good chance to reflect and take a step back, see what was working and reset."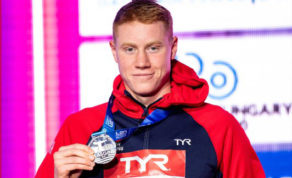 Dean – who is taking a year out from his Mechanical Engineering studies at the University of Bath, where he is supported by a Bill Whiteley Scholarship, to focus on his Tokyo dream – has been back in training since late May under the elite sport protocol alongside other aspiring Olympians in sports as diverse as athletics, bobsleigh, judo, modern pentathlon, skeleton and triathlon.
"That's another exciting thing about somewhere like Bath, it's a high-performance multi-sport environment," he said.
"The range of National Governing Bodies based here is really impressive and it's exciting to see so many young athletes working hard and preparing for the pinnacle of their sporting careers.
"I feel incredibly fortunate to be part of the elite sport programme and to be able to continue training, we all appreciate how lucky we are to continue having access to somewhere like the Sports Training Village given the circumstances."
Dean – a European relay champion in 2018 and individual short-course medallist in 2019 – is also grateful to be training towards competition again, with meets planned in Manchester and Edinburgh in the coming weeks before April's Olympic Trials in London.
His only other chance to test his progress since last March came while representing London Roar in the International Swimming League, where he twice smashed his 400m freestyle personal best while recording eye-catching victories in the semi-final and final.
"I got close to the British record in the final, so those performances were a big boost for me personally," said Dean.
"Competition is the best form of training and the ultimate measure of how it is going. When you are deep in a training block, you can sometimes lose sight of what you are putting all the work in for and it has been really quite surreal not having many chances to race over the past year.
"It's been tough at times without competition to provide that focus but we've had some new recruits to the National Centre which has helped to change the dynamic and keep things fresh, and Dave is great at finding ways to keep us motivated.
"I'm really excited at the prospect of racing again and looking forward to seeing where I am ahead of the Olympic Trials."
Find out more about the swimming programme at the University of Bath by visiting www.teambath.com/swimming.
Top picture courtesy of International Swimming League.