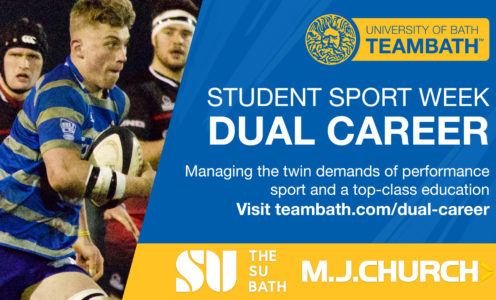 Providing the opportunities, conditions and support for student-athletes to develop and thrive in both their academic and athletic pursuits is central to the Team Bath Dual Career programme.
It is specifically designed to provide our community of student-athletes with the tools and relationships to effectively manage the twin demands of combining high-performance sport with a top-class education at the University of Bath.
Nearly 100 student-athletes across 25 diverse sports have been supported by the scheme during the 2018-19 academic year, each receiving free Team Bath Gym and hydrotherapy access, discounted services within the Team Bath Physio & Sport Science Centre, exclusive access to the Athletes' Lounge in the Sports Training Village, discounts in the Sports Café and up to 75 per cent off Training & Development courses.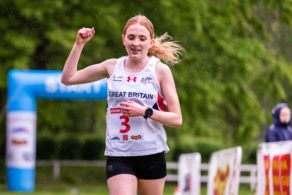 They also receive lifestyle support from a qualified advisor, providing them with guidance and mentoring on time management, forward planning, career support and any other issues affecting their study and sport.
That backing has helped student-athletes achieve some notable results during the past year, both while wearing the famous Blue & Gold of Bath in BUCS competitions and while representing club and country on the national and international stage. Among the highlights:
World, European and World University Games selections plus multiple Cypriot records for swimmer Filippos Iakovidis;
Czech Open Modern Pentathlon Championships gold and a TASS Awards nomination for Olivia Green;
England Rugby Students selection for Jack Kenningham and Will Partington;
A senior Bath Rugby debut for Miles Reid;

Kate Hunt with her indoor rowing gold medal

U23 women's 2km gold for Kate Hunt at the British Rowing Indoor Championships;

A place at the Red Bull Foiling Generation World Final in Miami for sailor Benno Marstaller.
Sports Performance student Adam Hames also won two medals on the North American Cup circuit with British Bobsleigh after being named in the senior squad for the 2018-19 season.
"The Dual Career programme enables me to balance the pressure of elite sport alongside my degree through an excellent support network at the University," he said.
New to the Dual Career programme in 2018-19 was Johnny Gorman, a former Premier League footballer and Northern Ireland international who has just completed the first year of a Psychology degree.
"I wanted to come to a university with a huge sporting background and a world-class psychology department, so the University of Bath matches my two interests very well," said Gorman, who played alongside Jesse Lingard as a youth at Manchester United before representing Wolverhampton Wanderers in the top flight.
"The student lifestyle is very different to being a full-time footballer but I have really enjoyed it so far. The University have helped to make it an easy transition."
Sports Performance student Kirsty Harris is part of both the University's netball programme and the Team Bath Netball Performance League (NPL) squad, where she was named as the U21 Players' Player of the Year this season.
"Dual Career has been really helpful throughout the year with people who you can go to at any point for advice," she said. "My course tutors are also great – they understand that as well as being at university to study you are also there to perform in sport, so they help out as much as they can."