Fitness Classes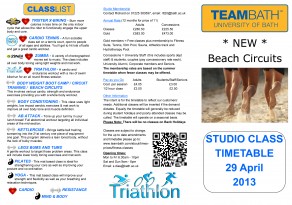 See our NEW studio fitness timetable – book a class today!
New timetable from 29 April 2013
Studio fitness class timetable 29 April 2013 page 1 [PDF]
Studio fitness class timetable 29 April page 2 2013 [PDF]
What better way to get in shape than to join one of our group exercise classes?
Book a class today!
Book classes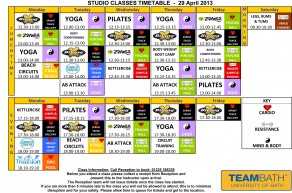 To book a class please contact the
Sports Training Village reception
on 01225 386339.
For further information regarding classes please contact our Fitness Suite Manager
Sandros Dias at s.dias@bath.ac.uk
Memberships
Please contact Richard Turner at rtt20@bath.ac.uk or 01225 383597 for details about the memberships that Team Bath offer.
What's classes are on?
Zumba – a variety of choreographed moves set to music, bare-foot beach circuits, Kettlercise!, Trixter X-biking, body conditioning, ab attack, circuit training, legs, bums & tums, pilates, step, yoga, boxercise and aerobics.
The class includes all over body toning using light weights and mat work.
Latino aerobics and Zumba have a dancy, Latin twist.
Some of the more popular classes will be fully booked and therefore simply turning up 'on the day' will not always guarantee you a place.
One of the key benefits of being a member is that you can book up to seven days in advance.
Fully open to the public, we have a team of highly-qualified therapists and practitioners that offer cutting edge services whether you are an elite athlete, a fun-runner or simply recovering from a recent injury or accident.

If you want to get fitter, get stronger or are serious about living a healthier lifestyle, come and see our Human Performance Centre team.

We offer a range of competitive gym, studio classes, athletics, tennis, swimming and GOLD membership packages to help you achieve your fitness goals in a uniquely inspirational setting.