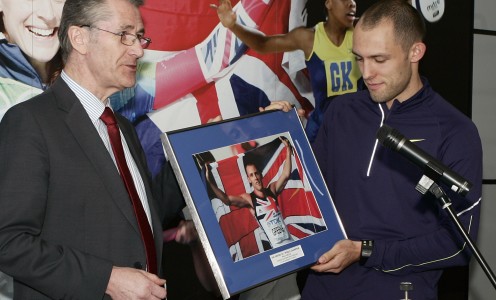 Staff, students and athletes at the University of Bath have paid tribute to Bath's newest World Champion at a reception for Dai Greene today (Tuesday).
Greene produced an outstanding performance to strike gold in the 400m hurdles at the World Championships in Daegu, South Korea on 1st September. It means Greene has added the World title to the European and Commonwealth crowns he won last year.
He was officially welcomed back to his Sports Training Village training base, where he is coached by Malcolm Arnold, UK Athletics National Event Coach – Hurdles.
Athletes based at the University of Bath have now won close to 50 medals at major senior international athletics events since Arnold began working at the University in 1998.
Professor Kevin Edge, Deputy Vice-Chancellor of the University of Bath, said: "I'd like to congratulate Dai on his achievement in Daegu.
"He has dominated his event and now holds three of the main four international titles in the 400m hurdles," he added. "I'd like to wish him the very best of luck with completing the set at the London 2012 Olympic Games.
"I'd also like to pay tribute to Malcolm Arnold, Dai's coach for the terrific work he has done with generations of athletes. I know Dai would be the first to acknowledge Malcolm's huge role in his success."
Professor Edge presented Dai with a framed photograph of the hurdler celebrating his success with a Union Flag at the World Championships.
Stephen Baddeley, Director of Sport at the University of Bath, said: "There's been a real buzz around since Dai won his gold medal at the World Championships.
"Dai's achievements over the last two years have been outstanding, but it's also right that we pay tribute to a number of our other athletes who have succeeded in winning medals on a world stage this year.
"They include Katrina Hart and Paul Blake, who both won gold at the International Paralympic Committee Athletics World Championships in January and swimmer Jess Dickons who won one of Britain's two golds at the World University Games last month."
Greene said: "I'd like to thank so many people for coming along today. Winning gold at the World Championships was fantastic. It's great when your hopes and dreams come together on one day.
"I've been training here for a couple of years and we've got a great training group," he added. "It's fantastic set up with great facilities, and with people training across lots of different sports to be the best the can."
Today's reception made it a double celebration for the University of Bath, coming just days after the University was awarded the prestigious title of University of the Year 2011/12 by The Sunday Times.
For further information please contact the Team Bath press office at Matchtight Ltd on 01225 383518 or 07765 071683.