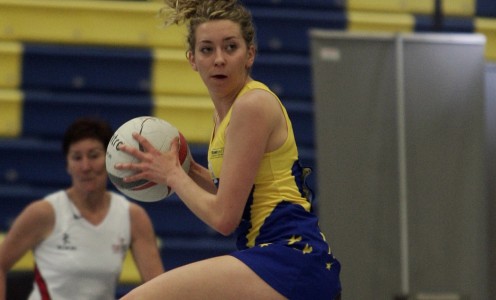 Team Bath's young netballers ended their 2012 Fiat Netball Superleague campaign in fourth place.
The team went down 62-38 to Surrey Storm in Saturday's Superleague Showdown semi-final in Dagenham to set-up a third/fourth place play-off against Hertfordshire Mavericks on Sunday. As with the other contests with the Hertfordshire side this season, Mavericks edged the game 46-39 to take third spot.
Biology student Kate McGinley, became the latest young Team Bath player to make her Superleague debut in Saturday's game.
Head coach Jess Garland said she was proud of what her team has achieved this season and that the team has laid some firm foundations for the future.
"Making the final this year was ultimately a stretch too far for us this season, but we should be really proud of what we've achieved," she said.
"Third or fourth is probably a fair reflection on the season, but that's not where we want to stay. All of our players are better for having gone to the finals weekend and coped with the nerves and anxiety of it. That has got to be good for the future.
"If you take a step back, we started the season with a squad of 15, eight of whom had never played in the Superleague, and we lost six players through injury, but we still managed to get through to the finals weekend.
"The number of University of Bath students that have come through to play in the Superleague this season has been a massive positive for us and hopefully sends out the message to young people that if they want tocome to university and they put their minds to it, they can earn this kind of opportunity," she added.
Former Team Bath player Sam Perry turned out again for the team at the Superleague Showdown. Sam is currently working overseas but was back in the UK for the weekend and offered to help out when Team Bath learned Sam Cook would not recover from her injury in time to play.
That had left Team Bath with Gemma Fletcher as the only regular circle defender available, with Kadeen Corbin, dropping back from shooter to help out in defence. Sam Perry featured in some of Saturday's contest to free Kadeen to play in her more accustomed role at goal shooter. Kat Ratnapala, a former Team Bath player and member of the coaching staff, was on the bench for Sunday's game.
For further information please contact the Team Bath press office at Matchtight Ltd on 01225 383518 or by email at press@matchtight.co.uk
You can also find out more about Team Bath at www.teambath.com , follow us on Facebook at www.facebook.com/teambath or on Twitter at https://twitter.com/#!/teambath
The University of Bath is The Sunday Times University of the Year 2011/12.