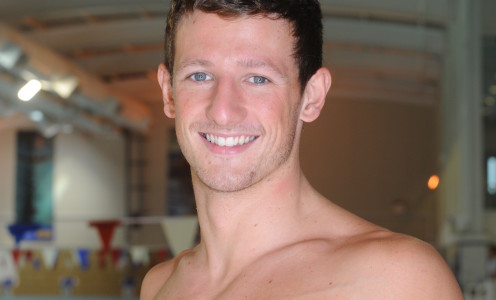 University of Bath Sports Performance student Michael Jamieson just missed out on a place in the 100m breaststroke final, despite finishing third in his semi-final at the London 2012 Olympics tonight (Saturday).
Michael, whose best event is the 200m breaststroke, came home in third place in semi-final two. His time of 59.89 equalled his time in this morning's heats – but it placed him ninth overall. That meant he just missed out on a place in the 100m breaststroke final tomorrow (Sunday).
"It was pretty close, but it bodes well for the 200m," said Michael, who trains at British Swimming's Bath Intensive Training Centre. "The crowd here were amazing."
Michael returns to action in the 200m breaststroke heats on Tuesday (31 July).
Mathematics & Computing graduate Natalia Sheppard beat GB team-mate Sophie Troinano in the round of 64 in the individual foil competition, but went down to France's Corinne Maitrejean in the round of 32. Natalia returns for the team foil on Thursday (2 August).
Earlier today GB rowers Heather Stanning and Helen Glover set an Olympic record to cruise into the final of the womens's pair on Wednesday.  Stanning, a University of Bath Sports Technology graduate, said: "We felt we had a relaxed row and now it's all about the final. That's the race we came here for."
For a round-up of the action from this morning please see http://www.teambath.com/2012/07/28/impressive-start-on-day-one-of-london-2012-action/
Egyptian badminton player Hadia Hosny El Said opens her London 2012 campaign tomorrow (Sunday) when she takes on Ireland's Chloe Magee in a women's singles game scheduled for 20.17. Hadia, who competes at her second Olympics, is studying for an MSc in Medical Biosciences at the University of Bath.
Zara Dampney and Shauna Mullin make their Olympic debuts in the beach volleyball at Horse Guards Parade. The British pair, who train at the University of Bath, face the Canadian team of Annie Martin and Marie-Andree Lessard in a 17.30 start.
In the pool, Bath Intensive Training Centre swimmers Siobahn-Marie O'Connor and Chris Walker-Hebborn make their Olympic debuts tomorrow. Siobhan-Marie goes in the 100m breaststroke heats with Walker-Hebborn in the 100m backstroke heats.
Another Olympic debutant is Victoria Thornley, who rows with the women's eight heats. She used to row at the GB Rowing Team's Start programme at the University of Bath.
For the latest information on athletes with University of Bath links competing at London 2012, go to our Olympic & Paralympic pages at http://www.teambath.com/sport/olympic-paralympic/
It includes biographies of selected athletes and also a schedule & results page. For the very latest news follow us on Twitter at https://twitter.com/teambath
For further information members of the media can contact the Team Bath press office at Matchtight Ltd on 01225 383518 or by email at press@matchtight.co.uk
You can also find out more about Team Bath at www.teambath.com , follow us on Facebook at www.facebook.com/teambath or on Twitter at https://twitter.com/#!/teambath