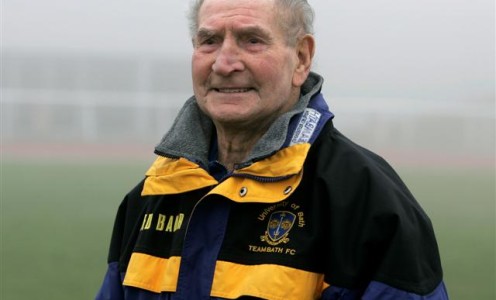 Ivor Powell MBE, a former Welsh international footballer and long-serving coach at the University of Bath, passed away last night at the age of 96 after a short illness.
After a playing, managerial and coaching career that took him to Aston Villa, Blackpool, Queens Park Rangers, Leeds United, Carlisle and PAOK of Greece, Ivor coached at the University for 37 years before retiring in 2010.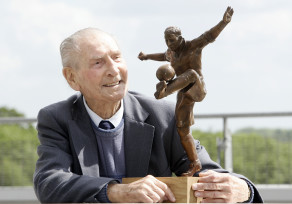 He inspired generations of young sportspeople and will be sadly missed by his many friends and former colleagues.
Professor Kevin Edge, Deputy Vice-Chancellor of the University of Bath, said: "Ivor was an outstanding individual, a real character and a tremendous inspiration to countless generations of students and to his many colleagues at the University.  He will be sadly missed.
"We would like to extend our sincere condolences to Ivor's family and friends."
Jess Garland, Head Netball Coach at the University of Bath, said: "There are few people in life that have the ability to touch both the hearts and minds of so many but Ivor Powell had this capacity in abundance. People were drawn to his cheeky sense of humour, and the clear passion he had for the field of sport and coaching was infectious.
"It was 13 years ago that I first met Ivor, the morning of the passing of his dear friend Sir Stanley Matthews. Ivor's story telling was second to none and he inspired so many of us to strive for the best.
"His coaching mantra of the key characteristics of sports people and teams needing passion, determination, aggression, the will to win and consistency of performance will transcend to many and will act as a legacy to such a true gentleman. It was a true privilege to have known and worked alongside Ivor."
You can find out more about Team Bath on our website teambath.com
You can also follow Team Bath on Twitter at twitter.com/teambath or facebook.com/teambath
For further information please contact the Team Bath press office at Matchtight Ltd on 01225 383518.