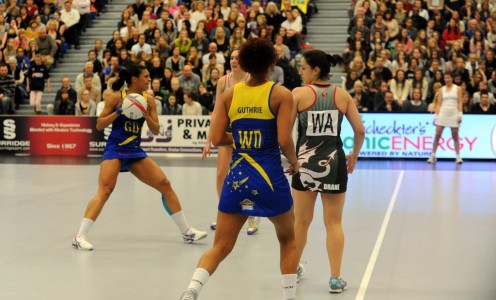 Team Bath's netballers made it two wins from two with a thrilling one-goal victory over defending Superleague champions Manchester Thunder.
Team Bath edged Saturday night's contest in Manchester 55-54, with Kadeen Corbin netting the decisive goal in the dying moments of the game after a strong team performance.
Jess Thirlby, Team Bath's head coach, said: "It was great to beat Thunder on their own turf. We had to work hard for it though, and we're not yet firing on all cylinder and there's still plenty of room for improvement.
"This season is a journey for us and we need to keep demanding more of ourselves, starting on Saturday when we have another tough game at Surrey Storm."
Thunder edged a keenly contested first quarter 14-12 and Thirlby shuffled her pack, moving Cookey out from goal attack to wing attack and introducing captain Asha Francis at goal shooter. Team Bath battled back to level up at 26-26 at half-time.
Cookey went back to goal attack for quarter three, with Yasmin Parsons on at wing attack. Thunder opened up a four-goal lead, but Team Bath then scored seven without reply to edge ahead again.
They couldn't wrestle the initiative away from the champions, who went into the final quarter 41-39 up.
But Team Bath dug deep in the final quarter and although Thunder were two up with five minutes remaining, Team Bath exerted intense pressure in midcourt and accurate shooting from Cookey and Corbin ensured Team Bath took the spoils.
Team Bath return to action with a trip to Surrey Storm on Saturday (23 February), followed by back-to-back fixtures against Loughborough Lightning at the University of Bath Sports Training Village on Friday 1 March and against Team Northumbria on 8 March.
For ticket information for Team Bath's Phase One home games please go to http://www.teambath.com/sport/netball/superleague/
Northern Thunder v Team Bath
Quarter scores (Northern Thunder first)
Q1: 14-12  Q2: 12-14 (26-26)   Q3: 15-13 (41-39)  Q4: 13-16 (54-55)
Team Bath starting seven
GS: Kadeen Corbin, GA: Pamela Cookey, WA: Yasmin Parsons, C: Mitchie Ritchie, WD: Serena Guthrie, GD: Gemma Stewart, GK: Stacey Francis.
Q2 changes: Asha Francis to GS, Corbin to GA, Cookey to WA, Guthrie to C, Ritchie to WD.  Q3 changes: Parsons to WA, Cookey to GA, Corbin to GD.  Q4 changes: Corbin to GS, Francis to WA, Stewart to GD.
You can find out more about Team Bath on our website teambath.com
You can also follow Team Bath on Twitter at twitter.com/teambath or facebook.com/teambath
For further information please contact the Team Bath press office at Matchtight Ltd on 01225 383518.