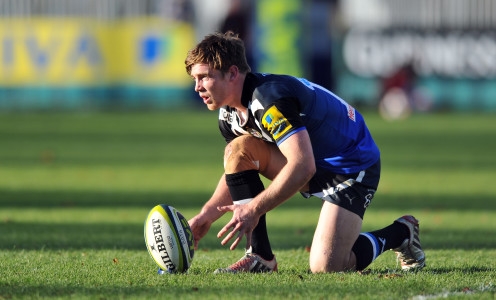 University of Bath student Tom Heathcote makes his first start for the senior Scotland team in Saturday's rugby international against Samoa.
The 21-year-old Bath Rugby player is studying for a degree in Politics with Economics at the University.
He has come off the bench against Tonga last autumn but Saturday's test against Samoa in Durban is the fly-half's first senior international start.
Meanwhile Politics with Economics student Max Maidment, has signed a contract with Championship side Cornish Pirates. The prop captained the University of Bath Rugby team last season and has played for England Students.
Hooker Josh Elliot (Sports Performance) has signed with Championship side Ealing Trailfinders and Tom Dunn (Sports Performance) has signed with Bath Rugby.
Aaron James, University of Bath head rugby coach, said: "I am pleased all the players have been rewarded for their hard work and commitemnt to Uuniversity of Bath RFC both on and off the field.
"It shows how University rugby is a springboard to  rugby players playing at higher levels throughout the game."
You can find out more about Team Bath on our website teambath.com
You can also follow Team Bath on Twitter at twitter.com/teambath or facebook.com/teambath
For further information please contact the Team Bath press office at Matchtight Ltd on 01225 383518.