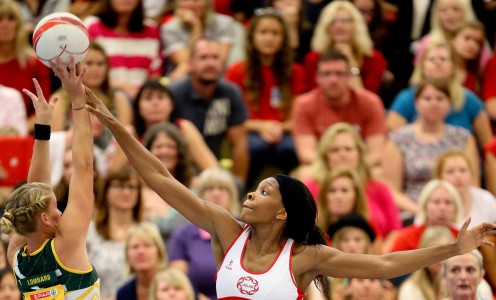 Team Bath's England international netballers were in action today as England came back from a four-goal deficit to beat South Africa 49-38 at the University of Bath's Sports Training Village.
"We had a shocking start but we are really pleased we came on strong in the second half and that's how we want to start in the second test", said England captain and Team Bath's Pamela Cookey after the victory.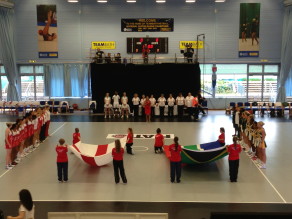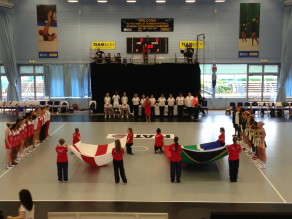 Cookey and her Team Bath team-mate Stacey Francis played the full 90 minutes Serena Guthrie and Mia Ritchie from the 2013 Superleague winning side played a quarter apiece.
Sara Bayman, Eboni Beckford Chambers – who worked tirelessly in defence with Francis – and sisters Sasha and Kadeen Corbin were amongst the Team Bath alumni in action.
England led 5-3 after five minutes in front of a capacity Sports Training Village crowd, courtesy of some great turn-overs in defence before South Africa hit back and went on to lead 8-6.
Team Bath's Guthrie was involved in a tense battle for centre-court supremacy with Boh Msomi.
At 9-9 Jo Harten, the England goal-shooter, made an instinctual intercept in the circle and scored to get England back on level pegging at 9-9 before being penalized for contact with the score standing at 11-10 to England. South Africa ran out of time to capitalize and went into the interval a goal down.
A torrid first five minutes of the second quarter saw England slump to 13-17 before a gutsy intercept from Team Bath's Francis saw the tide turn with England recovering to 15-17.
A time out called by England coach Anna Mayes further steadied nerves. Mayes took Guthrie and Harten off, moved Jade Clarke to centre from wing-defence, brought Kadeen Corbin on at goal-attack and moved Cookey to goal-shooter.
Former Team Bath player Sara Bayman came on at wing-defence. The greater mobility in attack had an immediate impact with England surging back to 18-18 before closing out the half 22-20.
England made a blistering start to the third quarter. An intercept from Bayman produced one of the best moves of the games to take the home side to 26-21.
The Corbin sisters, Kadeen and Sasha, and Cookey combined to produce another gasp-making move at 31-24 to move the winning margin to 32-24 with seven minutes remaining of the quarter.
A spirited South Africa rallied to 27-32 helped by a misfired England centre-pass and some accurate passing into their goal-shooter Melissa Mydeburgh whose height and mobility proved a test for the hard-working England circle-defenders Eboni Beckford-Chambers and Francis.
England kept up the pressure and were helped to a 35-29 lead when a rare Mydeburgh miss offered a last-minute turnpover which England converted.
A sizzling final quarter saw England extend their lead. Mia Ritchie came on at wing-attack to add fresh speed to the attack, linking well with both the tireless Clarke at centre and the shooters Cookey and Corbin.
The England victory by 49-38 will give the squad confidence going into the second test at Wembley in three days time with the final test on September 27th at Worcester.
Starting Sevens:
England
GS Jo Harten, GA Pamela Cookey, WA Sasha Corbin, C Serena Guthrie, WD Jade Clarke, GD, Stacey Francis, GK Eboni Beckford Chambers
South Africa
GS Melissa Myburgh, GA Maryka Holtzhausen, WA Simnikiwe Madaka, C Bongiwe Msomi, WD Precious Mthembu, GD Karla Mostert, GK Adele Niemand.
You can find out more about Team Bath on our website teambath.com
You can also follow Team Bath on Twitter at twitter.com/teambath or facebook.com/teambath
For further information please contact the Team Bath press office at Matchtight Ltd on 01225 383518.