Reigning ZEO Superleague champions Team Bath suffered their first defeat of the 2014 season as they went down 54-41 to Manchester Thunder at the University of Bath Sports Training Village tonight (Friday).
Team Bath went behind early in quarter one and despite battling back, they could never quite turn the tables on Thunder in the round two encounter, which was televised live on Sky Sports.
Team Bath head coach Jess Thirlby said: "We made a poor start tonight and it took too long to get everyone on the same page. The positive was the way we came back at them after the timeout in the first quarter.  They were feeling the pressure a bit then and I sensed we were coming back at them.
"But Thunder maintained possession well. You've got to be at your best to come back on a team like Thunder once they've got a lead, and we definitely weren't at our best tonight."
Captain Serena Guthrie added: "We didn't really come out of the starting blocks until the second half, and then it was a bit inconsistent.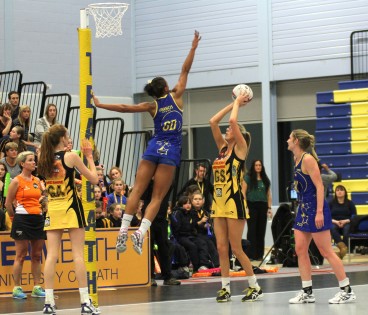 "We got back into the game, but then we made some errors and we couldn't close the game out.  We need to address those errors individually coming up to the game at Surrey on Monday night. It's important we start the game better on Monday."
Team Bath started uncharacteristically slowly as Thunder came out firing on all cylinders and raced away to an 8-1 lead in the first six minutes.
The biggest roars of the opening quarter from another fantastic 1000-plus crowd were reserved for Rosie Allison's early successes.
Towards the end of quarter one Billy Pritchard and Stacey Francis started making inroads into Thunder's shooters Krista Enziano and gifted England A player Helen Housby, stemming the flow of goals. But it was still the visitors who went into the first interval with a healthy 15-8 advantage.
Team Bath made a brighter start to the second quarter. They were came quickly out of the starting blocks and started to erode Thunder's lead. Vice-captain Stacey Francis made some terrifically athletic interceptions as the home side made the visiting shooters work hard for possession.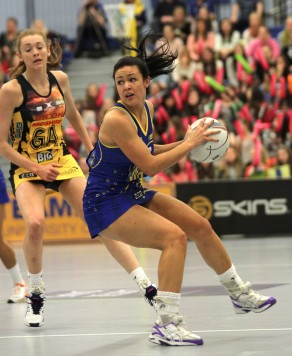 Rosie Allison and Pamela Cookey gradually started to cut the deficit, reducing it to just a couple of goals at 21-23 with six minutes remaining in the quarter. But after clawing their way back into the game, it was Thunder who ended the quarter the stronger, scoring six times without reply to take go into half-time with a 29-21 lead.
The first half had seen a fierce battle in midcourt, with former Team Bath player Sara Bayman particularly impressive for the visitors. Head coach Thirlby switched Serena Guthrie to centre at the start of quarter three with Mia Ritchie moving to wing defence.
Team Bath played their best netball at the start of that quarter, moving the ball with speed and fluidity.
Once again they reduced the Thunder advantage, this time to just three goals at 33-30. But despite some lovely passing between Yasmin Parson, Mia Ritchie, Pamela Cookey and Serena Guthrie, Team Bath couldn't overhaul the visitors and it was Thunder who again ended the quarter the stronger of the two, taking a 40-32 lead into the final quarter.
With time ebbing away, Ritchie and Parsons tried to work their magic in quarter four, with some swift passing that Allison accepted gratefully.
And although the crowd did their best to cheer Team Bath on to victory, Enziano and Housby kept up the pressure at the other end, and it was the 2012 champions who went on to secure their first win of the season, beating Team Bath 54-41.
Team Bath return to action on Monday (10 February) with a trip to Surrey Storm. Their next home game is another Sky Sports live televised fixture against Celtic Dragons on Friday 28 February. Ticket information about Team Bath's home fixtures this season is available at http://www.teambath.com/sport/netball/fixtures-results/
Carter Jonas are Team Bath Netball's property partner. Surridge are the official kit supplier, Skins provide the team with compression wear and Scheckters' Organics supply Organic Energy Drinks to Team Bath.
Quarter scores: Q1: 8-15, Q2: 13-14 (21-29), Q3: 11-11 (32-40), Q4: 9-14 (41-54)
Team Bath starting seven:  GS: Rosie Allison, GA: Pamela Cookey, WA: Yasmin Parsons, C: Mia Ritchie, WD: Serena Guthrie (captain), GD: Stacey Francis (vice-captain), GK: Billy Pritchard
Bench: Summer Artman, Shaunagh Craig, Lauren Dent, Jenna Murie, Jazz Scott.
Changes: Q3: Guthrie to C, Ritchie to WD. Q4: Pritchard to GD, Francis to GK.
Q4 injury time out changes: Craig to GA, Francis to GD, Artman to GK.
Manchester Thunder starting seven:  GS: Krista Enziano,  GA: Helen Housby, WA: Beth Cobden, C: Sara Bayman (captain)  WD: Laura Malcolm, GD:Emma Dovey, GK: Kerry Almond.
Bench: Jodie Gibson, Sara Hale, Rachel Henry, Kathryn Turner, Alice Travis.
Changes: Q4 injury timeout changes: Henry to C.
Shooting stats:
Team Bath
Rosie Allison – 32 from 38 (84 per cent)
Pamela Cookey – 9 from 10 (90 per cent)
Shaunagh Craig – 0 from 1
Manchester Thunder
Krista Enziano – 23 from 33 (70 per cent)
Helen Housby – 31 from 35 (87 per cent)
For further information please contact the Team Bath press office at Matchtight Ltd on 01225 383518.