Team Bath and Celtic Dragons fought out a 62-62 tie in tonight's eagerly anticipated televised re-run of last season's ZEO Superleague final.
Both teams managed to eke out three-goal leads in the game at the University of Bath Sports Training Village, but neither side could turn that advantage into a decisive margin and then push on to take all three points.
And unlike in Team Bath's other draw this season, a 48-all tie at Surrey Storm secured with a dramatic last quarter fightback, there was little cause for celebration this time around.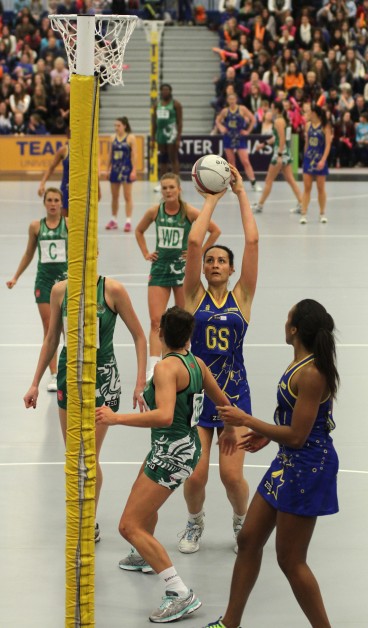 Head coach Jess Thirlby said she was disappointed her team didn't manage to capitalise on the turnover they secured against Dragons.
"We just didn't step up tonight," she said. "In the last few games our team effort, spirit and cohesion has been really impressive, but we can't always rely on that to come back late in games."
Billy Pritchard, who produced a string of athletic interceptions to stem the flow to Dragons' giant shooter Lottysha Cato, echoed her coach's thoughts.
"We're frustrated," she said. "There were times when we should have pulled away tonight and we didn't. We made too many unforced errors, and you can't win games like that."
The two teams were evenly matched throughout the hour, with Team Bath three goals up at 12-9 and then 17-14 in the opening quarter through Rosie Allison's sharpshooting.
Despite the best efforts of Pritchard, who produced four outstanding interceptions in the opening quarter, last year's runners-up continued to find Cato with high looping balls and she calmly converted.
Dragons battled back to end the first quarter all-square at 18-18.
The two teams continued to slug it out virtually goal for goal in quarter two. Team Bath took an early advantage, before the visitors went ahead, but they couldn't extend their lead to more than a couple of goals.
Allison found Cookey's clever diagonal run late on and she calmly converted the final attempt of the quarter, which ended 32-31 to Dragons.
Allison added three goals in the first minute of the third quarter, but again Team Bath couldn't power on. Instead it was Dragons who levelled up and then went three-up at 42-39, thanks to some competitive midcourt play and Cato's continual threat. Quarter three ended 49-47 to Dragons, with everything to play for.
Team Bath were quickly out of the blocks in the final court, playing with more vigour and with some great interceptions from Serena Guthrie and Mia Ritchie. Again they carved out a three-goal lead at 53-50 four minutes into the quarter.
But Dragons dragged their way back into the game, despite Pritchard and young Sophie Masterson's brave attempts to constrain Cato.
And although Team Bath took the final quarter, Cato's last attempt tied the game at 62-all, with Allison's late late effort to secure a home win judged to have come just after the buzzer.
Carter Jonas are Team Bath Netball's property partner. Surridge are the team's kit supplier. Skins provide the team with compression wear.
Team Bath travel to Loughborough Lightning on Saturday (8 March) return to action at home to Surrey Storm on Monday 17 March. For ticket details go to http://www.teambath.com/sport/netball/fixtures-results/
Quarter scores (Team Bath first): Q1: 18-18. Q2:  13-14 (31-32) Q3: 16-17 (47-49) Q4: 15-13 (62-62)
Starting sevens
Team Bath:
GS Rosie Allison, GA Pamela Cookey, WA Yasmin Parsons, C Mia Ritchie, WD Serena Guthrie (capt), GD Jenna Murie, GK Billy Pritchard.
Q3 changes: Guthrie to C, Ritchie to WD. Q4 changes: Amanda Trounce to WA, Pritchard to GD, Sophie Masterson to GK
Bench: Jazz Scott, Lauren Dent, Shaunagh Craig
Celtic Dragons
GS Lottysha Cato, GA Cara Moseley, WA Kyra Jones, C Cathy Bastian, WD Nichola James, GD Nia Jones, GK Kelly Morgan.
Bench: Suzy Drane, Sarah Llewelyn, Georgie Rowe, Sara Bell, Stephanie Murphy
Shooting stats
Team Bath
Rosie Allison – 45 from 51 (88 per cent)
Pamela Cookey – 17 from 18 (89 per cent)
Celtic Dragons
Lottysha Cato – 56 from 64 (87 per cent)
Cara Moseley – 6 from 7 (86 per cent)