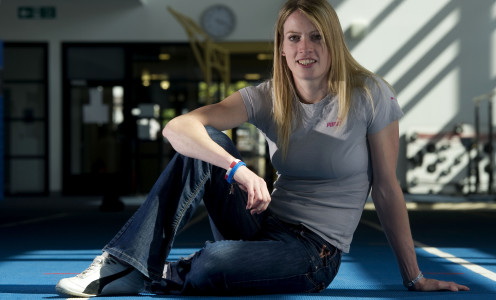 University of Bath-based athlete Eilidh Child landed another medal on the world stage when she led the Great Britain 4x400m quartet to bronze at the World Indoor Championships in Poland.
Child, who was Great Britain team captain for the championships, led off the GB relay quartet that came home third behind the USA and Jamaica in Sopot.
Child, who is coached by Malcolm Arnold, British Athletics' Lead Hurdles Coach,  ran the first leg, passing the baton to Shana Cox, with Margaret Adeoye on the third leg and Christine Ohuruogu bringing the team home.
Afterward Child, who has already been selected to represent Scotland at the Glasgow 2014 Commonwealth Games, said she was delighted to help the team land bronze.
"I'm delighted – I just wanted to come here and get a medal," she said. "We knew it was going to be really tough because the Americans had a really good team, Jamaica brought in two athletes, plus the Russians. We knew there would be four teams in the mix."
Andrew Pozzi, who is also coached in Bath by Arnold, just missed out of the medals in fourth place in the 60m hurdles with a personal best of 7.53 seconds in the final.
"I've ran my three fastest times this season here, with a PB in the final and you can't ask for more than that. I keep on improving and I'm happy with this indoor season.
"It's difficult to take, I was really looking for a medal. I felt competent and capable of doing that, but the medals were decided in incredibly fast times and I think it's one of the fastest World Indoor finals ever."
Meanwhile 19-year-old Sophie Papps, the youngest member of the GB team, finished a creditable sixth place in her 60m semi-final.
Papps, who is coached by Dan Cossins, said: "I was really nervous going in and that could have affected it, but I've had a really good time and I'm not going to dwell on it.
"I ran really well yesterday making it to the world semi-final, so I'm really pleased with how I've done overall."
For further information about Team Bath please contact the Team Bath press office at Matchtight Ltd on 01225 383518.