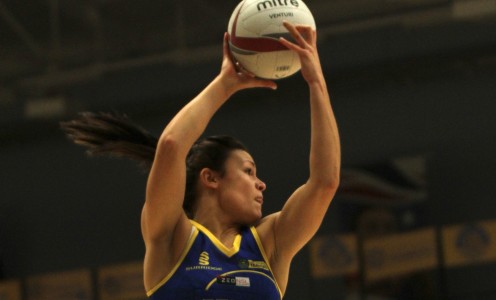 Team Bath will travel to Manchester Thunder in the ZEO Netball Superleague semi-final after beating Loughborough Lightning 63-41 in tonight's last home fixture of the season.
That result, and the results from tonight's other Superleague games, means Team Bath will end the regular season in third place, giving them an away semi against Thunder, who were confirmed in second place tonight.
First Team Bath play one more game in the regular season, a trip to Cardiff to take on Celtic Dragons on Saturday (12 April). Dragons are still in with a chance of securing the last semi-final place, but that hope would be extinguished on Friday if Hertfordshire Mavericks win at Yorkshire Jets.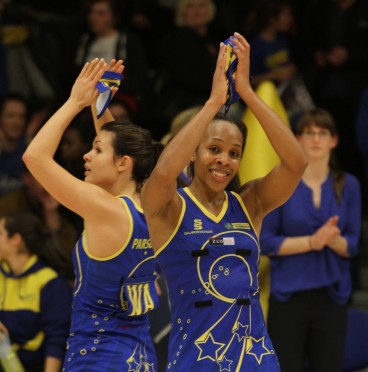 Either way, Team Bath coach Jess Thirlby said she is pleased her side will face a tough encounter against Celtic Dragons in their last Superleague fixture before the semis-finals.
"Celtic Dragons will be the perfect final league game for us in preparation for a Thunder semi-final. They are a team that we know are going to push us, so it's perfect preparation.
"We can take a lot of positives from tonight into the Celtic game," she added. "Our weakness has been our second half performances, but today that was our strength. We were able to make positional changes and increase our lead.
"The Celtic Dragons game is an opportunity to consolidate the strengths we've got and to explore a few other options," she added. "When we're in tough situation against tough teams, we know we can raise our game."
Team Bath captain Serena Guthrie took the microphone at the end of the game to thank the team's fans. "The fans have been amazing for us again this season," she said. "We want to get to the final again so we can try to retain the title for them."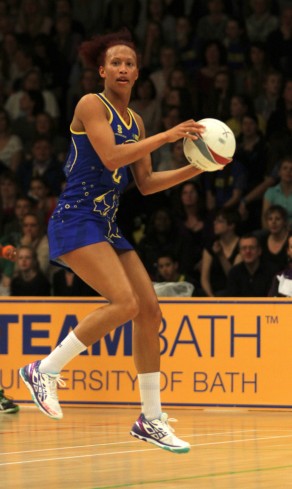 At times Team Bath made heavy weather of beating a Loughborough side whose performance was better and more competitive than their poor track record this season had suggested.
Team Bath had plenty of possession early on, but failed to capitalise on it fully, with both Pamela Cookey and Rosie Allison missing some attempts at goal in the opening two quarters.
A late rally from Team Bath at the end of quarter one, scoring three goals without reply, ensured Team Bath ended the quarter with a respectably looking 15-11 lead.
Thirlby shook things up in the second quarter, introducing Stacey Francis at goal defence, the first of three positions she would fill on the night, and with Yasmin Parsons coming off the bench to play at wing attack.
Team Bath shaded the second quarter 12-9 to extend their lead, but without ever being able to put Lightning to the sword.
Playing with greater fluidity in the last two quarters, Team Bath moved the ball around more quickly, with greater pace and purpose, simultaneously cutting down the error rate.
Allison and Cookey both improved their accuracy, turning outstanding interceptions from Guthrie, Francis and Billy Pritchard into goals.
A third quarter score of 16-11 extended Team Bath's lead to 43-31 going into the last quarter, a quarter that saw Team Bath press home their advantage as Loughborough faded.
Team Bath treated their fans to a 20-10 scoreline in their final home quarter of the season to run out 63-41 winners.
Further information on Team Bath's semi-final will be issued via teambath.com and social media when details are available.
Carter Jonas are Team Bath Netball's property partner, Surridge are the Team Bath kit supplier and Skins provide the team with compression wear.
Quarter scores
(Team Bath first): Q1: 15-11, Q2: 12-9 (27-20), Q3: 16-11 (43-31), Q4:  20-10 (63-41).
Starting sevens
Team Bath:
GS Rosie Allison,  GA Pamela Cookey, WA Amanda Trounce, C Serena Guthrie (capt), WD Mia Ritchie, GD Billy Pritchard,  GK Sarah Penny.
Q2 changes: Yasmin Parsons to WA, Stacey Francis to GD. Q3 changes: Ritchie to WA, Francis to WD, Pritchard to GD.  Q4 changes: Parsons to WA, Ritchie to C, Guthrie to WD, Francis to GK.
Bench: Kate McGinley, Sophie Masterson, Jenna Murie
Loughborough Lightning:
GS   Becky James, GA Elizabeth Hayman, WA Jess Waitapu (co-capt), C Lauren Steadman, WD Fran Desmond, GD Nicola Caunt, GK Moniek van Rossum.
Q2 injury time out: Holly Sims to WA. Q3: Desmond to C, Steadman to WD. Q3 injury time out: Hannah Joseph to WA, Sims to C, Desmond to WD.
Bench: Rochelle Powell.
For further information please contact the Team Bath press office at Matchtight Ltd on 01225 383518 or by email at press@matchtight.co.uk