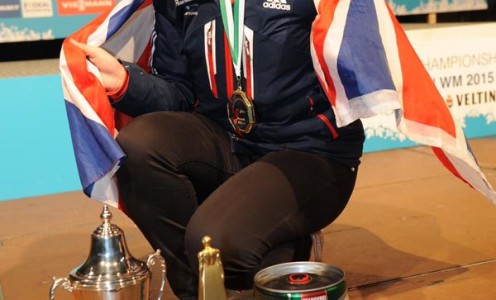 It was an exciting – and successful – weekend of FIBT World Championship action for the winter sports athletes who train with British Skeleton and British Bobsleigh at the University of Bath's Sports Training Village.
No more so than for Lizzy Yarnold, who was overjoyed after completing a grand slam of skeleton titles with a stunning victory in Winterberg, Germany.
"I am so pleased I can say I'm World Champion as well as Olympic Champion and European Champion – it's all I've ever wanted," beamed the 26-year-old.
Yarnold, who also won the FIBT World Cup in 2014, confirmed she is the best female slider on the planet by dominating every stage of the competition.
She set a track record in the opening run on Friday morning and improved that to 57.42secs in the fourth and final run on Saturday to secure overall victory in 3mins 49.95.
Fellow Brits Laura Deas and Rose McGrandle were seventh and ninth respectively after impressing on their World Championship debut.
"I can't quite take it all in – it has been absolutely amazing," said Yarnold, who succeeded fellow Brit Shelley Rudman as world champion.
"I wanted this world title so much. I was really nervous before the race because so many of the other athletes were so fast in training. Now I'm just totally exhausted and completely over the moon.
"It has been a lot of hard work and it's been a struggle at times. I couldn't have done it without my team and all my support, I'm not here by myself."
Deas completed her impressive debut campaign by improving in each round to finish seventh overall, having placed fifth in the World Cup standings.
"I'm really pleased with my finish at the World Championships, it's a great way to cap a really positive first season," the 25-year-old said.
"My first run left me back in 12th but I battled back and improved on every run so I couldn't be happier."
McGrandle lost a couple of places on Saturday but could also reflect with pride on her first year at elite level.
"I have totally enjoyed spending the season with such a supportive team of staff and coaches who have been instrumental in my performance an achievements, so a big thank you to them," she added.
"A big shout out as well to all who have been watching, following, cheering and supporting – thank you!"
University of Bath graduate Dominic Parsons completed a quartet of top-ten finishes for British Skeleton by placing an encouraging seventh in the men's event on Friday.
"That was not a bad way to finish the season," he said. "I've had some competitive results and should be more consistent mixing it with the medal positions over the coming seasons."
David Swift finished 22nd overall but Ed Smith was unable to compete on the second day after a recurrence of the leg injury which has plagued him all season.
British Skeleton Performance Adviser Andi Schmid was delighted with his team's overall performance, both at the World Championships and throughout the season.
"To have all three girls finish in the top ten at the World Championships is fantastic," he said.
"Lizzy gave everything and to be World, Olympic and European Champion is a great achievement.
"Our new staff this season have all worked well together and I've been very impressed with how they have created a high performance atmosphere. We have had a great platform set by the way the athletes, coaches and support staff have worked together this year."
Meanwhile, British Bobsleigh's four-man crew saved their best performance of an experimental 2014-15 season for last as they secured an excellent fifth-placed finish at the World Championships.
Lamin Deen, Ben Simons, Bruce Tasker and Andrew Matthews were just half a second outside the medals after four consistent runs in Winterberg.
It matched the achievement of John Jackson's GBR1 team at both the 2013 World Championships and the Sochi 2014 Winter Olympics.
Host nation Germany claimed three of the top four places, with bronze going to Latvia.
British Bobsleigh Performance Director Gary Anderson tweeted: "So proud to lead this team of world class athletes and staff. They make my job so much easier."