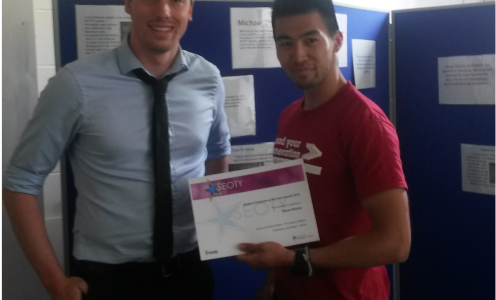 Team Bath student-employee Takumi Nishida (pictured) picked up the Above and Beyond award at the NASES Student Employee of the Year Awards on Tuesday (May 26), recognising his "outstanding" contribution to the Tribe programme.
Takumi, who studies Sport and Exercise Science at the University of Bath, coaches across a range of sports for Tribe, whilst also helping the Talent Development Centre on a voluntary basis.
His Above and Beyond Award is described by the NASES as befitting to 'an outstanding student making a huge impact working in your organisation going above and beyond on a regular basis'.
He was nominated by former Olympian Stacey Bromley (formerly Stacey Tadd), Tribe's programmes co-ordinator, who described Takumi's contribution to Tribe as "excellent".
She said: "We greatly rely on student employees like Takumi. We find coaches working on casual hours occasionally drop out on us, meaning having someone as reliable as him on board is very important.
"He loves working with children and can cover coaching sessions on virtually every sport we provide."
Tribe's student employee programme allows students to earn money for doing something they enjoy, and all whilst picking up valuable coaching experience with children of different ages across a range of sports.
To find out how to get involved, please contact Stacey via S.Tadd@bath.ac.uk.