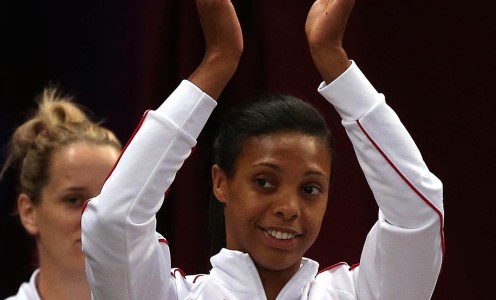 Team Bath Netball's Stacey Francis says she is "excited at the prospect of making history" after helping England reach the semi-finals of the Netball World Cup in Australia.
A hard-fought 62-46 win over South Africa in their final Pool F game on Friday set up a last-four showdown with New Zealand on Saturday (3.10am BST).
The Silver Ferns are the only team boasting a 100 per cent record in this year's competition and have been crowned as world champions four times.
England have never reached the final before, with their best performance at the Netball World Cup – known until 2011 as the World Championships – coming when they were runners-up to Australia in 1975 when the competition was played in a league format.
"It's a huge game, massive, but we are ready for it and excited at the prospect of making history," said Francis.
"Everybody has had really valuable time on court which is really going to put us into fantastic stead leading into what will be two incredibly competitive matches."
The winners on Saturday are likely to face Australia in Sunday's final (6.20am BST), meaning England will have to win the competition the hard way.
"You have to show respect to Australia and New Zealand when you're coming up against both sides," Francis added. "They will each hold their own levels of difficulty, it just means that we adjust the game plan slightly
"What's most important is that we are aware of what we are doing, that we are playing the 'England way' and that we are consistent with that when we step out on court."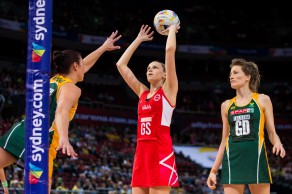 England went into their final Pool F game against sixth-ranked South Africa knowing that whoever won would progress to the semi-finals.
A feisty encounter in Sydney saw the Roses given an early scare before they tightened up defensively and pulled away to lead 16-8 at the end of the first quarter.
That gap grew to 32-21 at half-time, allowing head coach Tracey Neville to make several changes with one eye on the semi-final.
Francis came on at goal-defence and again impressed as England wrapped up victory and the second qualification place in Pool F.
The classification matches also get under way on Saturday, with Scotland facing Trinidad & Tobago in their play-off match in the ninth-to-12th category.
Scotland, with Team Bath Netball's Claire Brownie as vice-captain, finished runners-up in Pool H after narrowly losing 48-42 to Fiji in their final match.
Wales, who lost 89-24 to defending champions Australia in their final Pool F match on Friday, will face Malawi in their fifth-to-eighth place play-off match.
Team Bath's Kyra Jones has been one of Wales' most consistent performers at the championships.