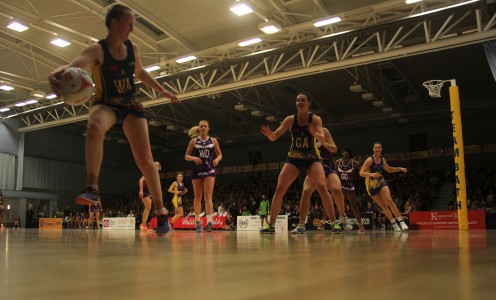 Team Bath Netball moved level on points with Manchester Thunder and Hertfordshire Mavericks at the top of the Vitality Netball Superleague table with a convincing 60-44 win over fellow play-off contenders Loughborough Lightning on Friday.
As snow fell outside the University of Bath Sports Training Village, Team Bath turned up the heat inside it with a confident performance thoroughly enjoyed by another capacity crowd.
The result leaves Team Bath six points clear of fifth-placed Lightning at the midway point of the season but while Head Coach Anna Stembridge was pleased with the win and the performance, she knows there is still a lot of work ahead.
"I was asked before the game whether I though it was a must-win match but, as far as I'm concerned, every game is must-win," she said.
"The first half of the season is over and we are well placed but we cannot rest on our laurels.
"Consistency was the key for us tonight. We knew Lightning were a force to be reckoned with and we did not underestimate them. We played smart, disciplined netball and looked a lot more connected in defence.
"We started well, as we did against Mavericks on Monday, but unlike then we built through the game. Lightning came back at us in the first quarter – it was a really well contested game throughout – but we were still up at the end of it and we went on to win all four quarters, which was pleasing."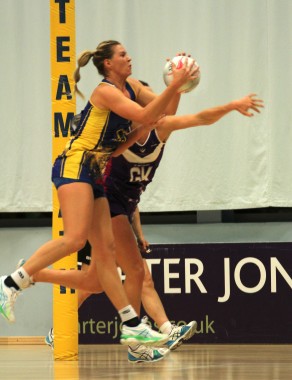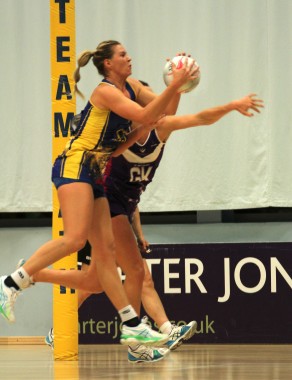 After their home defeat to Mavericks on Monday, Team Bath were looking for a positive start to this match – sponsored by Warminster School – and they got it as Rachel Shaw and Lenize Potgieter quickly fired them into a 3-0 lead.
A couple of mistakes allowed Lightning to level at 4-4 but Team Bath – roared on by a 1,600-strong crowd – were on the front foot and quickly regained a four-goal advantage.
Some sparkling link-up play in mid-court from Mia Ritchie, Jo Vann and Shaw ensured the chances kept coming and Team Bath found themselves with a 13-7 lead before Lightning hit back to close the deficit to 15-13 at the end of a pulsating first quarter.
The second period, by contrast, was a slow burner as just four goals were scored in a scrappy opening five minutes. Two of them were scored by Shaw, who then began to find the net with unerring accuracy as Team Bath clicked back into gear.
One nerveless finish from Shaw had the home bench and fans roaring with delight as Team Bath began to turn the screw, stretching their lead to ten points.
Some fantastic defensive pressure restricted Lightning's chances at the other end and the home side held a commanding 29-20 advantage at half-time.
Lightning made wholesale changes to their team for the third period, with just shooter Peace Proscovia and wing-attack Hannah Joseph remaining in their starting positions.
It looked like having a positive effect when they pulled three quickfire goals back but Team Bath were soon back in the driving seat, with the ruthless Potgieter hardly missing a shot.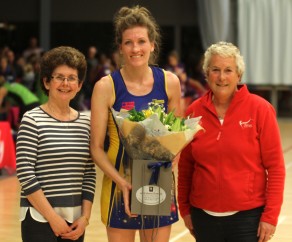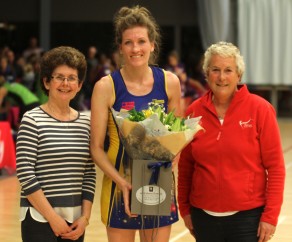 At the other end, her fellow South African Karla Mostert was having an outstanding game in defence alongside Eboni Beckford-Chambers as Team Bath won the period 18-13.
Lightning made four made changes for the final period, with former Team Bath shooter Kadeen Corbin coming off the bench to remind the home crowd of her fine finishing.
But the result was never in question and a Team Bath side that remained unchanged throughout comfortably saw out a 60-44 victory.
Carter Jonas are Team Bath Netball's property partner, Surridge are the Team Bath kit supplier and Skins provide the team with compression wear.
Next up for Team Bath is a trip to defending champions Surrey Storm on Saturday, March 12 before they return to the Sports Training Village on Friday, March 18 to face a Yorkshire Jets side captained by Stacey Francis.
Tickets are available for that game, and the Easter Monday home match against Celtic Dragons, by visiting www.teambath.com/events/ticketline or calling 0844 888 4412.
Match stats
Team Bath Netball
Starting seven: GS: Lenize Potgieter; GA: Rachel Shaw; WA: Jo Vann; C: Mia Ritchie; WD: Claire Brownie; GD: Karla Mostert; GK: Eboni Beckford-Chambers. Bench: Amanda Varey, Alana John, Chelsea Lewis, Sam Cook, Shaunagh Craig.
Changes: None.
Team Bath Netball Superleague squad 2016: Eboni Beckford-Chambers (C), Samantha Cook, Claire Brownie, Shaunagh Craig, Nicole Humphrys, Alana John, Chelsea Lewis, Karla Mostert, Sarah Penny, Lenize Potgieter, Mia Ritchie, Laura Rudland, Rachel Shaw, Amanda Varey, Jo Vann.
Loughborough Lightning
Starting seven: GS: Peace Proscovia; GA: Vanessa Walker; WA: Hannah Joseph; C: Jade Clarke; WD: Natalie Panagarry; GD: Ama Agbeze; GK: Joanna Trip. Bench: Lauren Massey, Kadeen Corbin, Lauren Nicholls, Harriet Gill, Rachel Sweet.
Changes: Q2: Corbin – bench to GA, Walker – GA to bench, Natalie Panagarry – WD to bench, Nicholls – bench to WD. Q3: Agbeze – GD to GK; Clarke – C to WD; Corbin – GA to bench; Massey – bench to GD; Nicholls – WD to bench; Trip – GK to bench; Walker – bench to GA; Penagarry – bench to C. Q4: Agbeze – GK to GD; Massey – GD to WD; Clarke – WD to bench; Trip – bench to GK; Corbin – bench to GS; Proscovia – GS to bench.
Loughborough Lightning Superleague squad 2016: Peace Proscovia, Vanessa Walker, Brittany Coleman, Kadeen Corbin, Harriet Gill, Lauren Nicholls, Jade Clarke, Natalie Panagarry, Lauren Steadman, Hannah Joseph, Lauren Massey, Rebekah Airey, Rachel Sweet, Ama Agbeze, Joanna Trip.
Quarter scores (Team Bath first)
Q1: 15-13. Q2: 29-20 (14-7). Q3: 47-33 (18-13). Q4: 60-44 (13-11).
Shooting stats
Team Bath: Potgieter 44/49, Shaw 16/23.
Loughborough Lightning: Proscovia 15/23, Walker 14/17, Corbin 15/20.
Attendance: 1,600.
Player of the match: Karla Mostert.