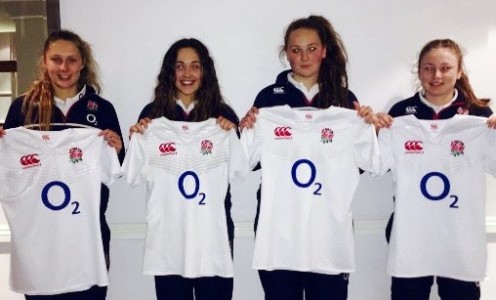 University of Bath student Chantelle Miell has retained her place in the England Rugby Women's U20 squad for the 2016/17 season.
Miell, supported by the University's Dual Career programme and the Sport England Talented Athlete Scholarship Scheme (TASS), plays her club rugby for Bristol RFC.
She was part of the England U20 team that earned a 25-25 draw with France in March, along with fellow University of Bath students Sydney Gregson, Lottie Holland and Jessie Hood.
Miell also helped the England U18s sevens team to victory at the European Championships in Liege, Belgium.
The 31-strong England U20 squad will next get together to take on Canada during a two-week residential camp in Nottingham in August.
Sport Performance student Gregson, supported by a Trendell Sports Scholarship, has recently progressed from England's National Talent Development Group to gain international honours.
Pictured top are (from left) Lottie Holland, Sydney Gregson, Chantelle Miell and Jessie Hood ahead of this year's England Women U20 match against France