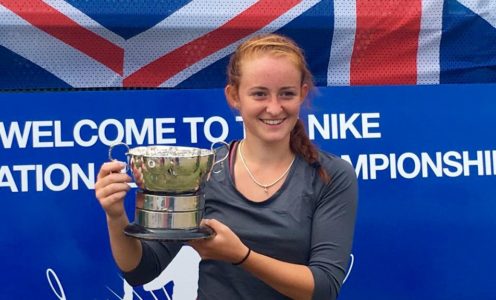 There was double delight for Megan Davies as Team Bath MCTA Tennis players enjoyed yet another successful year at the National Junior Tennis Championships in Nottingham.
Davies, supported by coaches Melanie South and Jim Edgar, dominated the U18 Girls' Singles competition, sweeping through the draw before beating Scotland's Alex Hunter 6-1 6-4 in the final.
She then teamed up with Hunter to win the U18 Girls' Doubles title, beating Team Bath MCTA's Camille Verden-Anderson and her partner, Ellie Rose Griffiths, in the final.
James Davis and Adam Jones, partnering Aiden McHugh and Ben Jones respectively, both reached the semi-finals of the U18 Boys' Doubles. Davis also enjoyed two good wins in the Singles competition before going down 6-0 7-5 to Joe Tyler in the quarter-finals.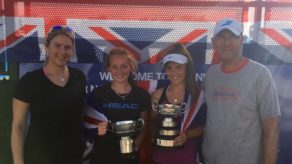 Millen Hurrion, a Team Bath MCTA access player, also competed in the U18 Boys' Singles.
The U14 age group saw Millie Bissett and partner Tiana Fox reach the Girls' Doubles final, where they lost out to Lily Mould and Indianna Spink.
Mould also ended Bissett's run in the Singles competition with a 6-3 6-3 victory in the quarter-finals. Louis Skupien represented Team Bath MCTA in the U14 Boys' Singles.
The U12 competitions took place in Bournemouth, where Matt Rutter and access player Amy Leather both participated in the early rounds of their respective draws.