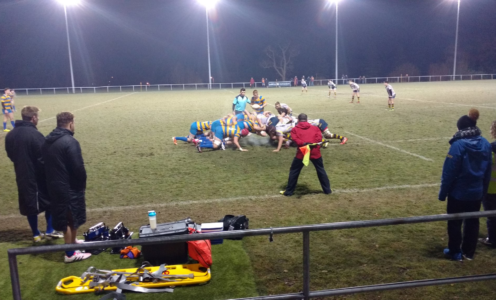 Five changes to the starting line-up, including a new-look front row, helped the University of Bath's Men's 1st XV to a 15-13 win at Cardiff Metropolitan University on Wednesday night.
Victory saw the University leap-frog their Welsh opponents into fifth place in the BUCS Super Rugby table with games in hand over all other league teams.
The Blue and Gold initially went behind early on after a Tom Morgan penalty put the home team 3-0 ahead within 10 minutes.
But the visitors soon rallied and, following a score-levelling penalty from fullback George Humphreys before the 20-minute mark, George Frampton, brought into the side for his first start of the season, went over after a line-out drive.
Frampton's try added to the contribution of Bath's increasingly impressive forwards who have now scored 10 of the team's 15 tries this season.
Before the break, Morgan kicked another penalty to end the half 10-6 in favour of the travelling team.
The University of Bath made a quicker start to the second half, adding another try through Dan Rowland's fourth score of the campaign.
The Blue and Gold's nine-point lead was reduced to two soon after, when the home team scored and converted a try but a tight contest resulted in no further scoring and Bath held on to secure two vital points.
The University of Bath men's 1st XV will next be in action on Wednesday (December 7) when they play host to league-leaders Gloucester Hartpury on the Sports Training Village athletics in-field.
Kick-off is 6.30pm and admission is free for spectators as always. It is the last chance to watch the Blue and Gold in action at the Sports Training Village during 2016 so don't miss it!
Match stats
Cardiff Met starting XV: 1 Sam Cochrane, 2 Ryan Roach (C), 3 Ian Etheridge, 4 Alex Dombrandt, 5 Edoardo Balocco, 6 Aaron Wainwright, 7 Josh Poole, 8 Aled Evans, 9 Ben Williams, 10 George Simpson, 11 Miles Moorhouse, 12 Tom Morgan, 13 Luke Northmore, 14 Dominic Williams, 15 Ollie Glasse
Replacements: 16 Ryan Spriggs, 17 Tom Mably, 18 Jordan Hogan, 19 Aled Ward, 20 John Humphreys, 21 James Hall, 22 Jordan Roberts
–
University of Bath starting XV: 1 Conor McGrath, 2 George Frampton, 3 Austin Hay, 4 Will Britton (C), 5 Jack Davies, 6 Alex Weighton, 7 Adam McCarthy, 8 Tom Kynge, 9 Jack Turner, 10 Ludo Hopkinson, 11 Craig Duncan, 12 Charlie Dunbar, 13 Robbie De Bruyn, 14 Dan Rowland, 15 George Humphreys.
Replacements: 16 Jordi Den Hartog, 17 Greg Palmer, 18 Alex Wood, 19 Mike Snook, 20 Freddie Avis, 21 Hugo Stiles, 22 Will Flinn.
Tries: George Frampton, Dan Rowland
Conversions: George Humphreys
Penalties: George Humphreys
Image via Bath Rugby Academy