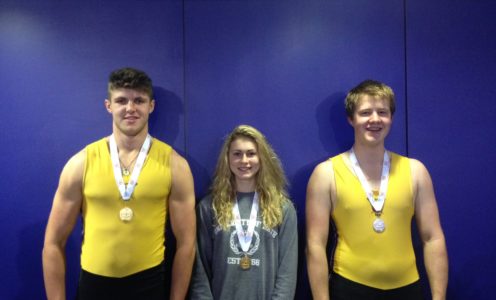 Three rowers from the University of Bath's renowned rowing Start programme picked up four medals – including three golds – at the British Rowing Indoor Championships on Saturday (Dec. 10).
16-year old Jens Hullah, who rows with the junior GB Rowing Team, won gold in the junior men's 2,000m event.
The medal was Hullah's second in two years at the event after he set a new British Y11 junior boy's record at last year's competition and his promising reputation continues to build.
Former rugby player Hullah is the youngest current member of the Start programme, run in conjunction with Minerva Bath Rowing Club, and earned his place after going along to testing at the University two years ago.
Laura Macro, also a Start rower, won gold in both the U23 lightweight women's 2,000m and 500m.
2015 double medallist Marcus Whiteley also picked up a silver in the U23 men's 2,000m event to round off an impressive weekend's rowing for Start coach Dan Harris.