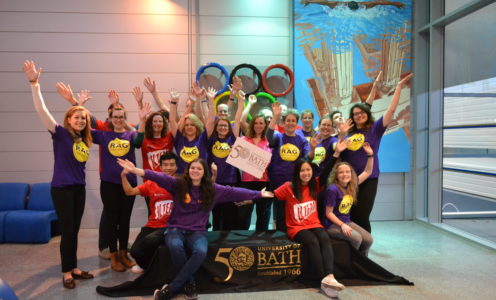 Olympic modern pentathlon silver medallist Heather Fell will run alongside 100 staff and students from the University of Bath for the 2017 Vitality Bath Half Marathon.
The aim is to raise £20,000 for RAG – the "raise and give" fundraising group which, like the University itself, is marking its 50th birthday.
Proceeds will go to local charities including the Trauma Recovery Centre (Bath), The Forever Friends Appeal at the RUH, CLIC Sargent, Bath Rugby Foundation and Cry in the Dark.
Team 50 are delighted that Olympic silver medallist Heather Fell will be joining the team to run alongside staff and students in support of RAG.
Heather said: "I am delighted to be part of such a large enthusiastic and local charity team. I have spent many years training for Modern Pentathlon as part of Team Bath, so it is wonderful to have another opportunity to represent the University as part of Team 50.
"This will be my third time running the Bathhalf, I can't wait to enjoy the brilliant atmosphere that this city creates for the local event," said Heather.
Students and staff from across the University have been training hard in preparation for the event in March.  Hannah Crosby, a final year Maths student, has joined Team 50 for her first-ever half marathon and said: "When I was in my first year of my degree I made the decision that I would complete the Bath Half before I graduated. Now here I am in my final year, so I guess this is the year that I'm going to do it.
"Doing the Bath Half through RAG means that I can give back to the community that has been my home for the duration of my degree.​"
The Vitality Bath Half Marathon is one of the top three single-day charity fundraising events in the UK and a fantastic platform for charity fundraising. The event raised over £2.2 million in 2016 alone, and this year will support 130 official charities.
More information about Team 50 and their fundraising can be found here: https://mydonate.bt.com/events/team50/349835
For further information, please contact: Louisa Peters – RAG Co-ordinator at the University of Bath Students' Union – on 01225 38 5052 or l.a.peters@bath.ac.uk.