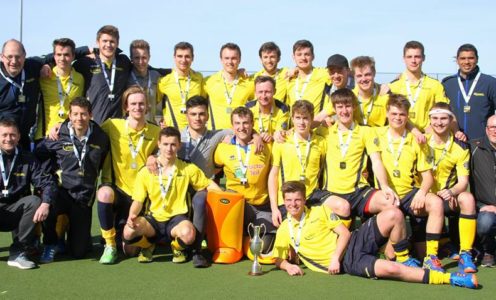 Team Bath Buccaneers have another shot at gaining promotion to England Hockey's highest echelons after winning a fourth Men's Conference West title in seven years.
Sunday's 7-0 win over Cheltenham at the University of Bath Sports Training Village wrapped up the regional championship for the men's 1st XI, who remain unbeaten since the first weekend of the season.
Ben Stone opened the scoring after nine minutes to settle any nerves and a great reverse-stick strike from Will Hewer doubled the lead before half-time.
Buccs made a storming start to the second period, scoring three times in four minutes through Adam Croutear (2) and Stu Rushmere. Liam Sanford hit the bar with a penalty stroke before an incisive run from fellow England international Peter Scott, a Sport Performance student and  Trendell Sports Scholar, set up Croutear for his hat-trick.
Stone wrapped up the scoring for Buccs, who are coached by University of Bath Head Coach Jody Paul. They will now go into the end-of-season promotion play-offs on the back of eight straight wins, with a place in the Premier Division their target. Also in the play-offs are East champions Sevenoaks, North champions University of Durham and Canterbury, who have finished ninth in the Premier Division.
The men's success comes just a week after the women's 1st XI secured promotion to the Investec National League.
Play-off fixtures (top two qualify for 2017-18 Premier Division)
Saturday, April 9: v Sevenoaks, Nottingham Hockey Centre.
Saturday, April 2: v Canterbury, Lee Valley National Stadium, London.
Sunday, April 23: v University of Durham, Lee Valley National Stadium, London.