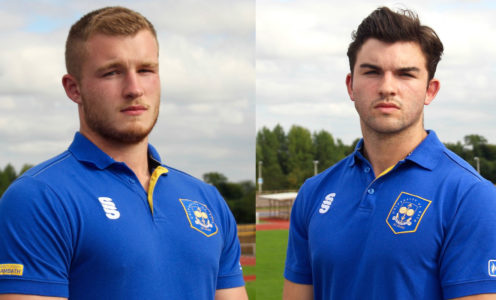 University of Bath men's 1st XV captain Will Britton (left) and centre Charlie Dunbar (right) have been named in the England Rugby Students squad for two international matches next week.
Britton, who studies Sport & Social Sciences, and Dunbar, a Sport & Exercise Science student, were both initially selected in the 42-man training squad before impressing coaches during a day of training in Coventry last week.
England team manager Paul Baty, head coach Aaron James – who is also Head of Rugby at the University of Bath – and the rest of the management team have been reviewing recommendations from universities and analysing game footage since late last year.
The final squad is meeting today [Wednesday] for a training camp ahead of Sunday's match against Ireland Universities in Oxford (2pm).
England will then head to Bristol on the evening of Friday, April 7, to take on France Students, looking to avenge last year's narrow 30-27 defeat in the corresponding fixture.
Both Britton and Dunbar impressed for the IKON Construction-sponsored University of Bath men's 1st XV during the inaugural BUCS Super Rugby season.
Britton has been short-listed for the national Fans' Player of the Season award. Click here for more information on how to vote for him.